Pic of the Week: 29 June 2017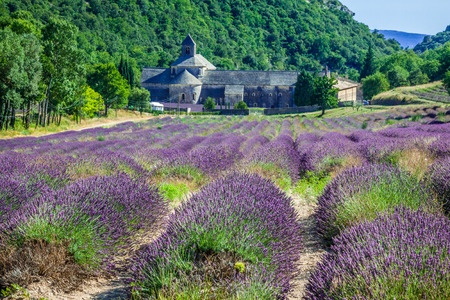 by Lukasz Janyst © 2017
Lavender in front of the Abbaye de Sénanque in Provence in south-eastern France.
Provence is famed for its lavender, and there's certainly plenty grown there, although the world's top producer of lavender oil is Bulgaria. It may surprise you to learn that there's no tradition of using lavender in Provençal cooking. Herbes de Provence was a descriptive term rather than a commercial product up until the 1970s, and the inclusion of lavender in it is really a North American thing. But lavender does lend its flavour to a liqueur produced in the valley of the Estéron river, near Nice. And, of course, lavender honey is produced widely around the Mediterranean basin.
The abbey at Sénanque has an unusual layout, on two counts. First, it's shaped in a tau (T-shaped) cross rather than the more usual cruciform shape. Secondly, its liturgical East – the end where the altar is – is placed at the north-north-east, because of the orientation of the valley it's built in.