Pic of the Week: 30 July 2017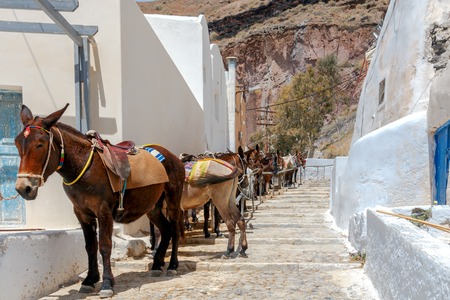 A queue of donkeys waiting patiently to take tourists up from the harbour to the village of Oia on the Greek island of Santorini.
As you can see, the path up to the village has steps. Evidently these donkeys haven't heard that equines don't do steps!
However, not everyone's happy about the conditions in which some of the donkeys are kept. Devon-based charity The Donkey Sanctuary advise tourists to take STEPS to look after their own welfare and that of the donkeys:
Safety: the donkey should be led at all times
Thirst: the donkey should have access to adequate water
Equipment: the saddle and bridle shouldn't cause the donkey injury
Pounds: your weight shouldn't overburden the donkey – 50 kg/8 st is the maximum
Shelter: the donkey shouldn't have to stand in the blazing sun while it's resting