Pergola Club Hotel and Spa, Mellieħa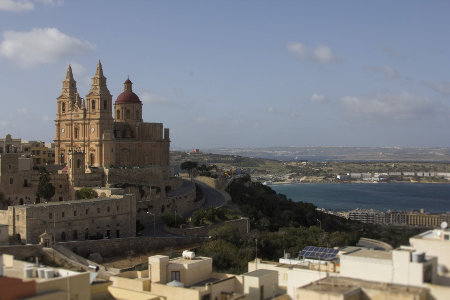 This month we took off to Malta for the week for a cartoonists' convention (and a bit of winter sun). We stayed in the Pergola Club Hotel and Spa in Mellieħa, in the north-west of the island of Malta near the ferry crossing to Gozo. Mellieħa's different from the neighbouring larger resort villages like Bugibba and St Paul's Bay in that it's not part of the continuous semi-urban sprawl that characterises much of the northern coast.
The hotel itself is handy for the local shops, although it takes a bit of finding if you're arriving in the dark – and it's quite difficult to find your way back on to the main road again if you're driving.
Rooms
There are 91 rooms, ranging from the basic "internal" rooms which don't have a balcony, to the top-of-the-range executive apartments with sea view (the beautiful view shown in my photo above) which accommodate up to five people.
We stayed in a "deluxe studio apartment" as we thought it would be worth having the option of self-catering in case the hotel food wasn't up to much. These studios have a floor area of 25 square metres and come with a kitchenette and dining table as well as the usual double bed, armchair and separate bathroom (no shower, though, just the usual shower-above-bath arrangement). The kitchenette was surprisingly well equipped, with several pots, pans and gadgets and full place settings for four people, a two-ring ceramic hob and a microwave.
Getting around the hotel is a bit tricky. It's built on a steep slope and so has numerous floors, many of them offset and/or on split levels. There are several lifts, but only one of them appears to cover all eight floors, and even then you may find that you've been taken to the wrong part of the floor you want to be on and have to find an alternative route. And the floor numbering varies between lifts, which adds to the disorientation you can often feel when you're moving around the sprawling building.
All this presents quite a problem if you have reduced mobility. The floor the reception's on, for instance, has about a dozen rooms, but most of them (and two of the three lifts accessible on that floor) are at least six steps below the entrance level. There are ramps, but they're too steep and narrow for many wheelchairs – we think they must have been designed for luggage trolleys or suitcases. And in any event the lifts themselves aren't all big enough to get a wheelchair in.
Food and drink
Although we had catering facilities in our room, we didn't make much use of them. This is because the Pergola's food and drink facilities are actually rather good, for the most part. The Bonaventura Bar is comfortable (except when they're playing hip-hop music on the television) and serves reasonably priced beer, wine and other drinks – although Dave's pina colada was a disappointment: it appeared to be served in a jar and to consist of little more than sickly sweet pineapple juice. They serve good lunchtime and snack food too, and are happy to pack it if you want to take the surplus back to your room for later.
The Bonaventura Restaurant lays on themed buffet dinners as well as English and Continental buffet breakfasts. We were a bit underwhelmed by the Maltese (K)night buffet on the Tuesday evening – it was OK but nothing special or exciting. (We didn't make it to breakfast.) On the other hand Dave enjoyed the six-course meal it provided for the final night of the convention.
Conference room
The Pergola has two conference rooms, one of which was given over to our convention for the week. Apparently it had been equipped with some help from EU funding. It seemed to be well enough equipped for our purposes – the main thing was that it had better Wi-Fi than we were usually able to get in the rooms. Wi-Fi's free throughout the hotel, but some of the coverage is a bit patchy and it seems to be under heavy demand.
Service
The staff at the Pergola are friendly and helpful. Checking in and out was easy and efficient and there were no nasty surprises. When we reported that our bathroom door handle wasn't working and trapped people inside when they closed the door, it was fixed within a couple of hours.
There's no smoking anywhere in the hotel, and they reserve the right to charge you €40 if they find any evidence you've been smoking in your room, including the balcony. On the other hand they did provide an ashtray on the balcony outside the conference room.
Limited off-street parking is available – but, again, the access for wheelchairs is non-existent, and the car park is down a very steep ramp. So we simply parked on the street around the corner. It was safe enough.
We were surprised to hear a knock on the door one evening. Dave opened the door to be told by a maid that the hotel were asking guests to bring in the plastic balcony furniture as there had been a warning of high winds. Sure enough, the wind did get up in the early morning and it remained blustery most of the following day. We did try putting the furniture back outside in the morning, but soon brought it back in again as the chairs were indeed being blown across the floor and making a noise.
Verdict
The Pergola's a reasonably priced and comfortable place to stay, in one of Malta's more charming seaside villages. We would definitely be happy to stay there again if fit, but we couldn't recommend it for anyone with reduced mobility.
Update: February 2017
We were delighted to be able to join our cartoonist chums for their convention again this year – and, as every year, the Pergola was the venue.
It's only been 12 months since we were last there, so you wouldn't expect a great deal to have changed. And indeed it hasn't for the most part. However, it was substantially colder – mostly because they've been undertaking a renovation programme since the New Year and the hotel was closed for the month before we arrived. It takes a loooong time for thick limestone walls to heat up. The hotel did lend us an electric fan heater for the room, which we made full use of – even if the fan did give out about halfway through our stay.
(In fact we'd been puzzled at the fact that I hadn't been able to book the Thursday night of our arrival in Malta and wondered why. It turned out that the Friday was their first day after reopening – which meant that we had to wait until late in the afternoon before we were able to check in.)
Otherwise, things were much as before, except that I was much more mobile and thus better able to get around the hotel. And there were no storms.
Oh yes, and we were at a loose end on our final Sunday afternoon and had the bright idea of watching Netflix streamed TV. (There aren't many channels of interest on the hotel's TV – BBC Entertainment and Discovery Channel were the only ones we could find that were even slightly appealing.) Dave had forgotten to pack a HDMI cable to plug my laptop into the hotel telly, but Reception kindly let us borrow one free of charge.
So another good stay despite the cold. We'll pack more warm clothes next year if the cartoonists will allow us back again…