Azure Window
Pic of the Week: 28 February 2016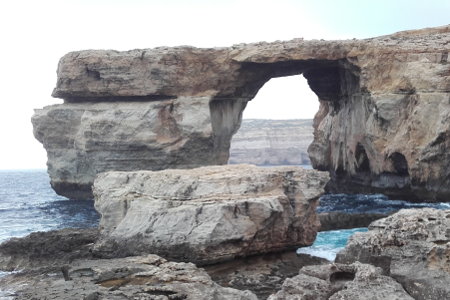 by Dave McMahon © 2016
The Azure Window on the western coast of Gozo, Malta's second island.
Dave adds:
"The Azure Window is one of Gozo's biggest natural tourist attractions and has also featured in many films and TV series, including Game of Thrones. Sadly, despite its apparent massive size it's becoming increasingly fragile and climbing on it is now banned.
"Most photos you'll see of the Azure Window are taken in brilliant sunshine. We weren't lucky with the weather during this visit, which is not all that surprising as it was February. Even so, I was struck by how blue the sea was despite the almost total cloud cover – the photo above hasn't been enhanced in any way."
Dave was bitten by the expat bug at the age of 13 when he went to live in Germany. Since leaving school at the age of 30 (with a doctorate in something so obscure even he can't remember what it's about) he's also lived in Bangladesh, India and Thailand, and travelled to most European countries (including several that don't exist any more, though he denies responsibility), as well as Barbados, South Korea, St Vincent, UAE, Laos, and many more.