Kay and I spent a rather atypical week on Malta in June 2005. We'd booked a self-catering holiday in the tourist resort of Bugibba on the north coast, with no idea of what food supplies were readily available on the island, what cooking facilities were likely to be available or what the local hostelries would be like – in short, we were going into the week blind.
Our previous self-catering experiences had been mixed. On a canal holiday in France, despite us being on a tiny houseboat, the little kitchen was surprisingly well equipped and the French farmers' markets and even the everyday shops provided an abundance of top quality food. (You can read more about it here: Canal Capers) Another time, on Barbados, self-catering was quite a disappointment. Although billed as self-catering accommodation, the kitchen there was almost totally unequipped, and the limited selection of produce available was of indifferent quality. We hoped for better from Malta.
When we got to the hotel we were pretty hungry and keen to eat. They kept us waiting at reception for about half-an-hour while rooms were being made up. When we suggested that we might go and get some lunch and come back later, they cheerfully agreed – but told us that the restaurant's lunchtime service had closed five minutes ago. Grrr!
The hotel also offered the chance to upgrade our booking from self-catering to all-inclusive for Lm 15 (about £25) per person per day. We were tempted by this as drink was included, but decided to see what was on offer from the restaurant. Although the menu looked quite appetising, when we saw the service it was pretty disappointing stuff – it looked more like a school canteen than anything else.
As for the shops, they were pretty uninspiring too for the most part. We did find a pretty good supermarket (Trolees) not far from the main post office, which had a good deli counter and a reasonable selection of packet stuff. But decent fresh veg were a bit hard to come by, and the range was limited. So we decided to explore what Bugibba had to offer.
Venus Restaurant, Triq il Korp Tal-Pijunieri (Pioneer Corps Road), Bugibba
Wandering around Bugibba on a Saturday early evening and looking for somewhere to eat, we were struck by the large number of places offering pizza, pasta and the good old (?) British standards. Not really what we fancied at that particular time. And Maltese cuisine (i.e. rabbit) didn't appeal greatly either. Then we remembered a smallish looking restaurant we'd passed earlier in the week, where the menu looked to be a cut above the ordinary. After a bit of hunting in the maze of Bugibba's tourist area, we found it – the Venus Restaurant. Unfortunately, all the outside tables were reserved. Or so we thought. Spotting us, one of the waiters asked if we wanted to eat now. On hearing that we did, he told us that we could have a table until nine-thirty. As it was only half-past seven, we had plenty of time to spare.
While waiting for our starters, we were brought a small platter of goat's cheese and galletti (the little water biscuits served locally – so nice we brought a few packets home with us). Beautiful, but we were very much aware that we'd already eaten well and we didn't want to spoil our appetites, so we didn't finish it. The waitress seemed a bit disappointed…
Starters: sadly, I'm embarrassed to say that we can't remember what we had now although we both remember that the starters were delicious. (Note to self – next time take notes or don't leave it so long before writing up a restaurant review.)
Our mains? I had the rack of lamb – five surprisingly large but very tender chops – together with tasty, crispy roast potatoes. Kay had fish (the catch of the day – but I'm afraid I can't remember now what it was. She's very funny about eating fish in restaurants (except in Thailand, of course) as it's often not as fresh as she would like…) with olive mash. Having had apple mash with pork on a previous occasion (in an upmarket Irish-themed pub on Bangkok's Sukhumvit Road) and been disappointed by it, she wasn't too sure what to expect. In fact, it was beautiful – the combination worked really well. Both came with a serving of seasonal vegetables and lovely Maltese bread. We were so delighted by the meal that we congratulated the owner as we left and said he'd definitely get a good write-up on the website. He offered us a drink on the house but we didn't accept as we like to keep our reviews completely unbiased.
If you're in the area we definitely recommend this place. It's a bit pricier than some places but the food was worth it. Highly recommended – 4/5.
Bayside Bar & Grill, Dawret il-Gzejjer, Bugibba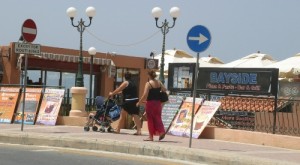 This was the best local place for us to sit by the sea and enjoy the view across the bay to St Paul's Island. The staff were friendly and very obliging, never batting an eye if we simply wanted a snack and to share a meal between the two of us. The first time we went we had ordered a meal each – a pasta dish, a pizza, garlic bread, and an accompanying salad – far too much! However, they were unfazed when we apologetically asked for a doggie bag, and happily provided it. There was still more than enough for our lunch the following day back at our self-catering apartment.
The menu here was fairly typical of many other places but this place had the edge because of its sea-front location and friendly staff. For that it rates 4/5 although if we were rating on food alone, then 3 (maybe 3½)/5. Recommended.
Cafe Jubilee, Triq Santa Lucija (St Lucy Street), Valletta
On our only foray into Valletta, we were getting hungry and wanting something a bit special. We also fancied sitting outside, as it was a lovely sunny day. However, most of the places in Triq ir-Repubblika (Republic Street – Valletta's main street) seemed to be offering variations on the same pizza-and-pasta menu, which we didn't fancy. One place which wasn't, the Malata in Palace Square, had a wonderful à la carte menu and looked a cut above the rest. Unfortunately it was full!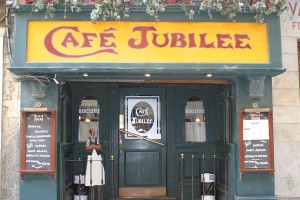 So we were forced to give up on al fresco eating. We retraced our steps to the Café Jubilee, which we'd noticed on our way up the hill from the Sliema ferry jetty. We made our way inside, to find it a snug, dark bar with tables placed anywhere that space could be found (or made?) for them. Ours was just at the inside end of the bar! The décor of walls papered with yellowed newspapers from decades ago, bric-à-brac of the same vintage, and film posters made for a cosy, intimate atmosphere. The soft jazz playing in the background was a refreshing change from the usual lift music.
As it was lunchtime, we decided to order the mixed cheese platter for two, which came with salad, Maltese bread and galletti. We also decided to try a bottle of one of the local reds. It took some time for the busy bar staff to take our order – after all, it was Saturday lunchtime – but when it arrived, we weren't sorry! There was plenty of variety: soft cheeses, hard cheeses, cream cheeses, and one unidentified cheese which came in brown balls of about 3cm diameter, with an incredibly sharp, peppery taste. They were presented on a platter with grapes, dates, olives and several different salad leaves – and a plentiful supply of that wonderful Maltese bread. All in all there was plenty for two to eat. The accompanying wine was pretty good too; enough body to satisfy, without being too heavy. And all for a quite reasonable Lm 9 (£15) or thereabouts. Highly recommended – 4/5.
Jester Bar, corner of Triq il-Kahli/Triq il-Lampuki, Bugibba
The Jester was the first place we ate at, as it was the closest place to the hotel. Very much a bar rather than a restaurant, and offering typical pub grub. Kay had scampi and chips, I had chicken and chips. The chicken was very tasty, with lovely crispy skin well rubbed with herbs, and Kay's scampi arrived piping hot, crunchily crumbed without being overdone. The side salads were generous, full of variety and well-presented. Sadly, the chips were cold. Stone cold. We suspect they only had one deep fat fryer. All in all, not a bad place to go if you don't fancy a walk further afield – but prices weren't particularly cheap in comparison to other places. With a number of hotels in the immediate vicinity, they seem to be playing on holidaymakers' laziness. And we don't like cold chips. 2½/5
San Pawl Hotel Restaurant, Triq il-Kahli, Bugibba
Pretty much the same as the Jester Bar above but the food was cooked less skilfully – everything fried (ie the whole meal) was overdone. They had a live singer on too. Nice voice, shame about the repertoire. 2/5