Crooked Mary – Part One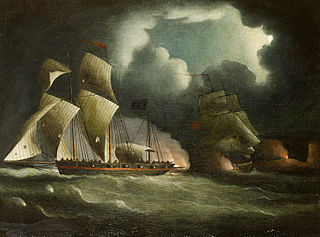 Thomas Buttersworth (1768-1842): A Royal Navy brig chasing and engaging a well-armed pirate lugger
The tiny villages of Collieston and Whinnyfold nestle beneath the cliffs of Scotland's North East coast. Although in these present times, they have more than their fair share of retirement homes and holiday cottages, they were once thriving fishing communities. But their main claim to fame, or perhaps notoriety, was their role in the thriving smuggling trade which prevailed in the late eighteenth and early nineteenth centuries.
To learn of their past, you have to read, not Tourist Guides, but old historical accounts in the local library, and records from two-hundred-year-old newspapers! Which is how I learned of the Crooked Mary, and Collieston's role in her capture.
Let me take you back.
The year is 1798. The date, December the eighteenth. The notorious lugger Crooked Mary is sighted in the afternoon, and the message quickly carried from door to door. A run will take place after dark. All other activity stops. The run is the ultimate priority. This is no surreptitious venture by one or two dubious individuals. This is a regular highlight in the life of a community. Everyone helps on the smuggling run.
A seemingly meaningless gesture is a pre-arranged signal. A plaid (or tartan blanket) is spread, apparently to dry, on a peatstack. To knowing observers, the message is understood.
As the evening approaches, Crooked Mary is seen drawing towards the shore, signalling the creek into which she intends to run.
She is the most notorious lugger of her day. She sails under Dutch colours, and has three main points of call on this North East coast – Collieston, Cruden and Peterhead. As always, she has lain offshore until nightfall.
All the villagers of Collieston lend a hand, and the illicit cargo is off-loaded into a dinghy, and thence to the agreed landing point. It is packed into creels, and carried on the backs of the men, women and children, to a point near the temporary hiding place. And the Crooked Mary is off.
She hastily sails outwith the prescribed limit, beyond which a vessel sailing under Dutch colours cannot be seized.
But tonight, luck is not on her side. A King's cutter, skippered by a Captain Ayre, has been deployed to track the Crooked Mary this night. Ayre is a determined man, having been thwarted by the lugger many times before.
Well outwith the limit, the Crooked Mary's crew relax, and congratulate themselves on another job well done. Making free with the rum ration, they are completely unaware of Captain Ayre approaching, and little resistance is offered to the boarding party.
This capture became the subject of a High Court trial, since the Mary's owners maintained she had been outwith limits. Captain Ayre had to prove he had taken the Mary within limits. Obviously he could not call any of the Collieston villagers as witnesses, as they would have vowed the lugger was outwith limits whether she had been or not! Anxious to make his charge stick, he rounded up some residents in the parish of Old Deer, some way inland, and using rather heavy means of persuasion, got them to testify that they had seen the capture take place close to shore.
One witness swore he had watched the whole event from his own porch.
Under cross-examination, he was reminded that the capture had taken place after dark. And that his house was ten miles from the coast. And that his porch faced west, not east towards the sea. Not too difficult to discredit that one, then.
Another witness, after repeated questioning, eventually admitted that he had never even SEEN the sea!
Despite these obvious fabrications, the High Court of the day was acting on behalf of the King, and not exactly impartial. The Crooked Mary was therefore assigned to her captor. The delighted Captain Ayre waited until the fuss had died down, then sold her back to her rightful owners for the small fortune of thirty pounds. Clearly a man of integrity, this Captain Ayre.
Immediately to the north of Collieston harbour, linked to it by a short footpath, is a small sandy cove called Cransdale. This was the favoured landing place, accessible, and with a sandy beach. The sandy beach bit is important. If there was any word of excisemen, or gaugers, in the area, time was of the essence. So instead of transporting the contraband away from the landing place, the men would dig a deep pit in the sand, in preparation. This pit was shuttered with wood, and its roof would be more than six feet below the surface – because six feet was the length of the exciseman's "searching spear". The smuggled goods would be deposited quickly in this pit, to be moved to a secure hiding place after all had quietened down.
Then all the Collieston folk would be employed in conveying this booty to another dump, close to the permanent hiding place. But they would not know exactly where that hiding place would be. Then only the few ringleaders would themselves transfer the goods to the last secret location.
Several caves around Collieston are known to have been used for this purpose. The renowned "Dropping Cave of Slains" – just north of Old Slains Castle, and about a mile or so north of Collieston, was famed for its smuggling associations. So too was Hell's Lum, which provided a storage area some 200 feet in length and rising in places to thirty feet high. Cave Arthur was a favourite, being inaccessible at high tide, but remaining dry inside. These are all marked on the Ordnance Survey map if you want to take a closer look, but really they are as inaccessible now as they were then.
The smuggling history of these villages remains well hidden.
© Mike Clark 2002
Mike discovered the joys of horticulture when, as a small child, he overheard a neighbour say she'd dropped a sixpence in the tattie patch. He has been digging ever since, with the tenacity of a true Scot, hoping one day to find a fiver. Despite now running his own landscape gardening business, Mike claims to be permanently broke, due in part to his quest for fame resulting in writing gardening columns for free. He likes trees, Jack Russells, and 12 year old Glen Ord, but not necessarily in that order. Gifts of any of these can be sent c/o britishexpat.com, but he would like to point out that the third item is by far the easiest and cheapest to post. One of the highlights of his life was winning a toilet brush in a raffle. He persevered with it for ages, but he's back on the paper now... Mike approaches gardening and writing with exactly the same formula. Throw in plenty of manure, and something good will eventually spring up.