Ring of Bright Otters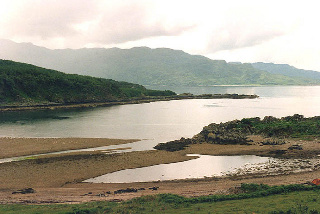 View of "Camusfeàrna" Bay, Sandaig
Photo: Martin Southwood (Licence)
Someone who cared had placed a bunch of wild bluebells on Edal's memorial plaque. They were wilting now, in the midday summer sun. But they had lost none of their poignancy.
The old rowan tree, too, has died. But it still stands, stark and lifeless against the black-green of the encroaching conifer plantation.
Scrambling down the precarious path, high above Camusfeàrna, there was a feeling of timelessness among the wild flowers carpeting the woodland floor. Deep in the ravine below, the otters' beloved stream tinkled and chattered, gurgled and burbled with the delight of wilderness. Some things never change.
As the path emerges from the wood at the foot of the hill, there is a fence and gate. The gate hinges have long since rusted away, and instinctively you step over the fence rather than risk touching the fragile structure.
Then some thoughtful soul has provided a rope bridge to help you cross the burn. It looked a hazardous venture none the less, and I chose to risk the stepping stones.
The old stone dyke is there, sheltering the rowan tree and the memorial to Edal. But of the house itself there is no trace. After the fire, the site was cleared, and the only indication of its whereabouts is a simple memorial with a message to visitors that Gavin Maxwell's ashes lie below, on this, the site of Camusfeàrna.
So much of it has gone; it is hard to imagine those days of activity …
In 1956, Gavin Maxwell was in Southern Iraq. His love of wildlife had led him to decide that an otter was the companion he wanted to share the wilds of Camusfeàrna. And thus it came about that an otter was acquired from the Marsh Arabs and lived for a period with the author at the British Consulate. The otter's name was Mijbil, and was destined to become a household name.
When Maxwell moved to Camusfeàrna with Mij, he had a Primus stove to cook on, and some washed-up fish boxes for furniture. And that was it. But over the years he refurbished and extended the house, and created a variety of outbuildings to house his "family". As the author puts it, the original four-roomed cottage grew to have "straggling prefabricated wings built with the ugliness born of necessity".
Mij became a constant companion. He lived in the house, shared the author's food and bed, and accompanied him everywhere. Maxwell made a careful study of the otter, with a view to writing a book about Mij. However, it must be remembered that Gavin Maxwell was ahead of his time in his love for otters. To many people, otters were vermin which depleted fish stocks and should be exterminated. Thus, little more than a year after bringing him back from Iraq, Mij met his end under a roadman's pickaxe. Maxwell was naturally devastated, but soon resolved to replace Mij – otters had become a major part of his life.
Thus came Edal, to whom the monument is dedicated. Edal – a few months old – belonged to a Dr McDonald. Dr McDonald had obtained Edal in West Africa, and had brought her home to Torridon. However, a return to Africa meant Edal was destined for the zoo. A meeting of pure chance between Maxwell and the Doctor resulted in Edal settling in at Camusfeàrna, occupying Mij's place at the fireside.
Soon she had established herself into his routine – live eels from London for breakfast; a two hour walk along the shore or over the hills; home again to play in the rock pools or by the waterfall. Then Teko arrived.
Teko was an otter which Maxwell found in very similar circumstances to Edal. The owner was going abroad. A home had to be found for Teko. At the first experimental meeting, it was quite obvious that Edal was possessive of her home territory, and friendship with Teko would be out of the question. So separate quarters were constructed, and separate exercise regimes devised, to keep the two otters apart and happy.
Then at two years old, Edal nearly died. She developed an infection of the brain arising from a septic tooth. She underwent a personality change and attempted to savage anything or anyone who approached her. At the same time, she was partially paralysed and would not eat. The advice from Maxwell's London contacts was to put her down, but the local vet would not hear of it. Despite her aggression, they managed to inject her with antibiotics daily until, when it had seemed a hopeless cause, she eventually began to respond.
Edal never looked back, and went on to thrive under a number of "caretakers" at Camusfeàrna, as her owner came and went partly on business and partly due to his own failing health.
The financial situation was always precarious. Keeping otters – and employing staff to look after them – was a costly business. This proved a considerable drain on Maxwell's finances which almost ruined him. Indeed, had the tragic end not come when it did, one must wonder how long he could have continued. In fact, towards the end he had seriously considered transferring Edal and Teko to a zoo.
However, in the early hours of 20 January 1968, a fire devastated Camusfeàrna. Gavin Maxwell survived with Teko, but Edal was lost – a tragic end to an astonishing decade of otter/man relationships.
Maxwell's nearest neighbours at Camusfeàrna were those folk he chose in his books to call the MacKinnons, at the house he called Druimfiaclach. But by 1966 they were gone and "there was no occupied human habitation within five miles of Camusfeàrna". By that year too the estate owner was well advanced with forestry planting, and as the author stood on the hill above Camusfeàrna "there was a dense, dripping ten year old growth of Sitka and larch" at his back.
Since then, the conifer plantation has grown and matured and provides dense afforestation down to the very boundaries of the Camusfeàrna site. A network of uncharted forest roads confuses the pilgrim with a walkers map. And cattle roam the ground where Edal once played, using her memorial stone as a rubbing post. At the gate, a crudely painted sign warns the visitor to "Beware of the Bull". Worst of all, there is now an occupied cottage within a hundred yards of Camusfeàrna – whether permanently occupied or a holiday home, I neither know nor care.
I wandered and wondered. So little remained here now – so little to portray the incessant, intense activity; the triumphs and the tragedies; that Camusfeàrna had seen only a generation ago.
The cattle scratched the flies from their ears against Edal's stone. The commercial coniferous army marched resolutely towards Camusfeàrna… Sometimes I despair of our ability to care.
As I climbed the hill, Edal's epitaph echoed in my head. "Whatever joy she gave to you, give back to nature." If only we would.
Footnote: The site of Camusfeàrna is in Glenelg, in the North West Highlands. Find it on Ordnance Survey Landranger Sheet 33 – Loch Alsh and Glen Sheil. The site is off an unclassified road south of Glenelg village, map reference NG772148.
© Mike Clark 2002
Mike discovered the joys of horticulture when, as a small child, he overheard a neighbour say she'd dropped a sixpence in the tattie patch. He has been digging ever since, with the tenacity of a true Scot, hoping one day to find a fiver. Despite now running his own landscape gardening business, Mike claims to be permanently broke, due in part to his quest for fame resulting in writing gardening columns for free. He likes trees, Jack Russells, and 12 year old Glen Ord, but not necessarily in that order. Gifts of any of these can be sent c/o britishexpat.com, but he would like to point out that the third item is by far the easiest and cheapest to post. One of the highlights of his life was winning a toilet brush in a raffle. He persevered with it for ages, but he's back on the paper now... Mike approaches gardening and writing with exactly the same formula. Throw in plenty of manure, and something good will eventually spring up.