Pic of the Week: 30 July 2019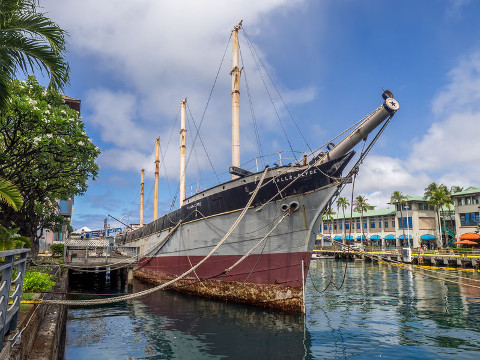 The Falls of Clyde, the world's last surviving iron-hulled, four-masted full-rigged ship, moored at her berth in Honolulu harbour.
Built in 1878 in Port Glasgow as one of eight ships named after Scottish waterfalls—in this case a series of four waterfalls near New Lanark—the Falls of Clyde served 21 years as a British merchantman before being bought for US$ 25,000 by Capt William Matson. He took it to Honolulu and registered it under the flag of the Hawaiian Republic in 1899. The United States formally annexed Hawaii the following year (having first been complicit in the overthrow of Queen Lili'uokalani in 1893; the annexation was highly controversial given the USA's anti-imperialist origins and traditional foreign policy). Congress had to pass a law to allow the Falls of Clyde to sail as a US flag vessel.
From 1907 to 1927 she was a bulk oil tanker (and is the only remaining sail-powered oil tanker). She then spent 32 years as a floating fuel depot in Alaska. She narrowly escaped being sunk as part of a breakwater at Vancouver in 1963. She was then opened as a tourist attraction in 1968 and featured in three episodes of Magnum P.I. in the early 1980s.
Sadly, successive attempts to repair, restore and refit the ship have struggled. The latest attempt, by the Glasgow-based Save Falls of Clyde International Campaign, raised just £2,662 of the £550,000 it was aiming for to bring her back to Scotland.