Expat Interview – Alex Shaw
In our Expat Interview series, we talk to expats all over the world who are involved in doing something which our readers would be interested in hearing more about. It could be work, running a business, or involvement with a charity.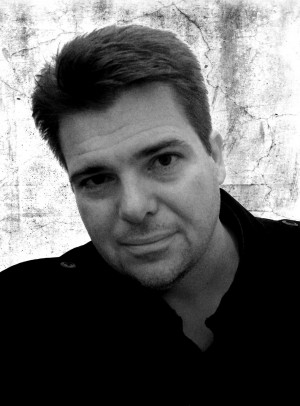 Today's interviewee is novelist Alex Shaw, a British citizen who spent the second half of the 1990s in Kyiv, the Ukrainian capital, teaching drama and running his own business consultancy. After he was head-hunted by Siemens, the next few years saw him doing business for the company across the former USSR, the Middle East and Africa.
Alex is an active member of the International Thriller Writers (ITW) organisation and the Crime Writers Association (CWA). He is the author of the #1 International Kindle Bestselling 'Aidan Snow SAS thrillers' Cold Blood and Cold Black and the new Delta Force Vampire series of books. His writing has also been published in the thriller anthologies Death Toll, Death Toll 2 and Action Pulse Pounding Tales 2, alongside international best-selling authors Stephen Leather and Matt Hilton. In addition to this, Alex is one of the very few British authors to be contracted by Amazon to write for their Kindle Worlds series.
Cold East, the third Aidan Snow thriller, will be available in April 2015.
Alex, his wife and their two sons divide their time between homes in Kyiv and Worthing, West Sussex.
On being an expat:
BE: What took you to Ukraine in the first place? Did it seem like a normal career move or did something else motivate you to do this?
Alex Shaw: I was asked to start a language school in Kyiv, and as I was an unemployed graduate at the time I said 'yes'. I didn't view it as a career move but as an adventure. I'd always been fascinated by the old Soviet Union and wanted to know more about the newly independent Ukraine.
Did your then friends and colleagues find it unusual, or even odd, that you'd up sticks and do such a thing?
To be honest, no, as they were all as mad as me! It was at the very start of my career so we were all doing crazy things.
Did you settle into the expat life straight away or did you experience any culture shock or period of readjustment? Care to expand on that?
Arriving in Kyiv I spoke absolutely no Ukrainian and knew about five words of Russian: da, nyet, vodka and babushka. This came in useful when I was buying vodka from old ladies. I met my wife on my first day in Kyiv (we got married seven years later and have now been together for 18 years) and getting to know her friends and family really helped me to not feel isolated. But being an expat so early on in Ukraine's independence was great. There weren't many of us so there was a real sense of community. It was a bit like being a student all over again.
Ukraine is possibly not on most expats' top lists of where they think they might like to go. What have we all been missing out on by perhaps overlooking this gem?
It's hard for me to explain why I love Ukraine and Kyiv especially, but I'll give it a go. Kyiv is essentially a beautiful city. It has the most picturesque scenery, the largest number of trees of any European capital city and some remarkable architecture such as the Ministry of Internal Affairs building, which is the same size and shape as the Arc de Triomphe yet is not a tourist attraction. In addition to this it also has fantastic bars and restaurants, and yes, the booze is cheap. But Kyiv's beauty is not only skin-deep, there is a real beauty in the Ukrainian people and how they value their sovereignty. I've been honoured to be allowed to watch Ukraine grow and develop over the years as a nation. I feel myself to be part Ukrainian. I may be a stick of rock from Worthing but if you cut me in half you'll see KYIV clearly written.
Back when you got started, being an expat was generally considered to be quite unusual. These days it's more commonly seen as being just another career or retirement option. How do you feel about that? Has life as an expat really changed much over the last decade or so?
Being an expat was very exotic and whenever I'd return to the UK people I met just could not understand my experiences and why I didn't follow any soap operas. It did however immensely help my career as Siemens saw that I wasn't afraid to work abroad so head-hunted me for an export sales job. The people I met and the places I went to for them (the former USSR, the Middle East and North Africa) really enriched my writing. I generally write about places I have been to. Being an expat is different now as modern technology has made the world shrink. For example as an author I can work anywhere I want to as long as I have the occasional access to email so I can send my work to my publisher. The Internet now means that wherever you are in the world, as long as you are not at the top of a mountain, at sea or in the middle of a desert you can stay connected with friends and family at home. If anything I think being an expat is now easier and more usual, if less exciting.