The Tapestry of Love
by Rosy Thornton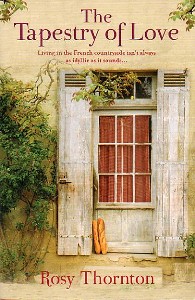 This book appealed to me because of its expat theme and its vaguely foodie nature.  I don't usually read books in the romance genre, but I made an exception for this one – and I'm glad I did!  It was a cracking good read!
Here's the blurb from the back of the book:
A rural idyll: that's what Catherine is seeking when she sells her house in England and moves to a tiny hamlet in the Cévennes mountains. With her divorce in the past and her children grown, she is free to make a new start, and her dream is to set up in business as a seamstress. But this is a harsh and lonely place when you're no longer just here on holiday. There is French bureaucracy to contend with, not to mention the mountain weather, and the reserve of her neighbours, including the intriguing Patrick Castagnol. And that's before the arrival of Catherine's sister, Bryony…
The main character, Catherine Parkstone, sets off to make a new life for herself in a tiny French hamlet. Naturally it takes time to fit in, but the neighbours are mostly welcoming and supportive. She goes on to make good friends with them, and when her business plans get snarled up by French bureaucratic red tape, the villagers stand side by side with her in the "us against them" situation which develops.
I feel sure that many of you will also have encountered the Catch-22 situation which Catherine found herself in when trying to establish her business overseas in a country such as France. You can't submit your business accounts without a seal. OK, so apply for a seal. Nope, it's not that easy. Almost every document you're required to submit during that process isn't valid unless it carries… your business seal. You get the picture.
Mostly the neighbours are kind and fairly elderly, but there is also the enigmatic Patrick Castagnol, a Frenchman who speaks perfect English and lives in a secluded house in the mountainside woods. Naturally Catherine and Patrick become friends and Patrick, who is an excellent cook, teaches Catherine about the food of the area – wild boar, chestnuts, mushrooms, and all manner of things freely available to the hunter or forager.
Despite the difficulties, life is laid back and relatively idyllic for the independent Catherine. And then Bryony comes to stay. Bryony is Catherine's city-slicker sister, beautiful, outgoing, clever, successful, thoroughly selfish and mostly a complete pain in the bum. But, as is the case everywhere she goes, everyone loves her. And she has her sights set on snaring Patrick.
In the background of the story the French neighbours become like real people to the reader and you feel real sorrow when there is a death in the hamlet. There are also Catherine's two grown-up children who make the occasional appearance in the novel – the very likeable Tom, and Lexie, who is a bit of an air-head.
All in all the characters seem very real and the plot unfolds at a good pace. It's a fairly gentle novel but is packed with excellent descriptions of life in rural France as seen by an English woman on her own. This is the sort of book that would make ideal holiday reading – especially if you're visiting France, though that's by no means essential to enjoy the read.
One thing I particularly liked about this book was that it wasn't swamped with French phrases which I couldn't understand.  Some authors seem to spend a little time in France and then assume that every reader is also expanding their French vocabulary every day, which in my opinion can be annoying for the non-French-speaking reader.
I also enjoyed the obvious love of food of the rural French people, who were mostly self-sufficient and producing everything from honey to goat's cheese. I almost felt I knew the characters well enough to call them friends and felt that I would love to go and stay in their community for a while but, alas, they and their community are fiction and a product of Rosy Thornton's inventive mind.
I would most definitely recommend this book to anyone who likes a good story and who has any interest in France and/or cooking.
By the way, if you would like a free recipe booklet which contains recipes based on food cooked and served by characters in the novel, then pop over to our sister site Not Delia where you are welcome to download the recipes in PDF format.
The Tapestry of Love
Rosy Thornton
Paperback, 406 pages
2010, Headline Review
ISBN 978-0-7553-4557-1
RRP: £7.99