Five questions about Easter Island – Quick Quiz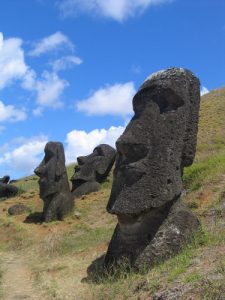 Ask most people to tell you something they know about Easter Island (Rapa Nui) and it's likely that they'll tell you about the mysterious moai – the sculptures that can be found around the island. Readers of this website will know that it's also a pretty good hiking destination. But what else do you know about it? Have a go at our five questions below and see – you might surprise yourself!
Easter Island's one of the world's most remote inhabited islands – the next nearest inhabitants are on the Juan Fernandez islands. How far away are they?
Easter Island has a tropical rainforest climate. How much of the island (to the nearest 10%) is presently covered by broadleaf forest?
The moai represented heads of the Easter Island population's lineages and were carved over nearly six centuries. When was the last one made?
Easter Island is at the south-eastern apex of the Polynesian Triangle. Which archipelago is at the south-western apex?
In what year did Chile annex Easter Island?