Relaunch promo – The Facts Lab Book of Greece!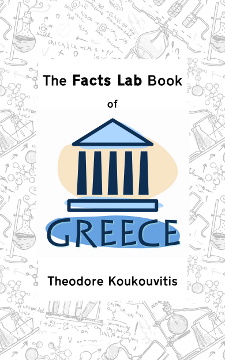 The first of our trivia books, It's all Greek to them! 101 amazing facts about Greece and the Greeks by Theodore Koukouvitis, has been relaunched to bring it into line with the others in our Facts Lab series.
Predictably enough, it's now called The Facts Lab Book of Greece, and has a shiny new cover modelled on the other books in the series, The Facts Lab Book of Brazil and The Facts Lab Book of Insects. It's unchanged in other respects.
To celebrate the relaunch, we're giving it away free for two days! You can get it at the Kindle Store for nothing from 0700 GMT on Friday 14 March*. But make sure you don't delay, because the offer closes again 48 hours later, at 0700 GMT on Sunday 16 March!
Edit: The promotion's now over. If you downloaded it, happy reading, and please do leave us a review on Amazon. Thanks!
Buy the book
You can buy The Facts Lab Book of Greece through any local version of the Kindle Store. For your convenience, we've linked to the .com and .co.uk versions, but there are Kindle Stores for Germany, France, Italy, Spain, Japan, India, Canada, Brazil, Mexico and Australia too.
If you have the time, we'd appreciate it if you could rate or review the book on Amazon too – it's always good to have feedback. Thanks!
Not got a Kindle?
Don't worry, you don't need one. There are several Kindle reader programs, plugins and apps available at Amazon that cover most computers and smartphones.