Victor Harbor horse-drawn tram
Mention the seaside town of Victor Harbor to any Australian or overseas visitor who has had the pleasure of visiting Adelaide, and their eyes will immediately glaze over with happy memories of riding the Victor Harbor horse-drawn tram across the wooden causeway which links the Victor Harbor township to Granite Island.
Granite Island is home to over 2,000 fairy penguins, a great place to watch the whales during the winter months, an island teeming with unique and unusual wildlife, and not a bad place to get a half decent cup of coffee in the Granite Island Bistro either.
The Victor Harbor horse-drawn tram was first established in the late 1800s and was later changed to a motorised version. The horse-drawn tram was re-introduced as a tourist drawcard and proved to be very popular with holiday makers and tourists alike.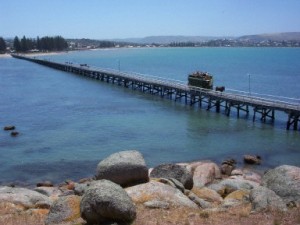 A team of Clydesdale working horses are stabled next to the tram station and are worked on a rotation basis. Each heritage tram can take a maximum of up to 50 passengers. The well-maintained track runs on roller bearings, which makes the work load easier for the horse.
Trams run every 20 minutes across the 630 metres of the wooden causeway. Meanwhile, underneath in the sheltered calmer waters of the Southern Ocean, the rare and endangered leafy sea dragons are to be found, carefully hidden away amongst the weed that grows around the wooden poles holding the causeway aloft.
One of the last surviving horse-drawn trams left in the world today, the Victor Harbor experience is something quite unique.