Pic of the Week: 31 January 2014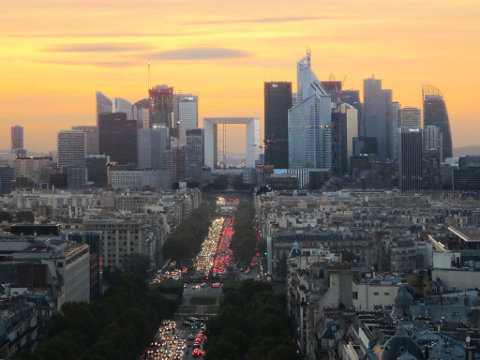 by David Stanley © 2013
La Grande Arche de la Défense (built in 1989) stands in the heart of the Paris business district of La Défense, which is at the western end of the ten-kilometre-long Historical Axis of Paris, of which the Champs-Élysées forms part. This shot is taken from the Arc de Triomphe de l'Étoile, which faces the Grande Arche along the Avenue Charles de Gaulle.
The district is named after the statue La Défense de Paris, which commemorates the city's defenders during the Franco-Prussian War in 1870.
Buildings in the City of Paris are limited to a height of 37 metres (121 feet). La Défense lies not far outside the City's perimeter and was deliberately planned from 1958 onwards to allow business office space to expand in a controlled manner; hence its dramatic appearance on the Paris skyline. It's currently the largest purpose-built business district in Europe.
David Stanley is a prolific travel writer and photographer. You can find more of his photos of Paris, and of many more destinations, on Flickr.