Breakfast is served!
Pic of the Week – 23 October 2006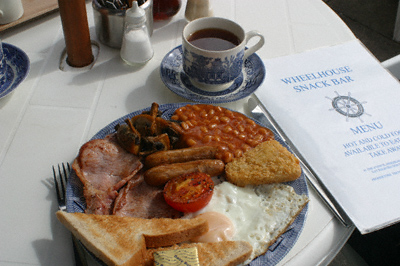 by Kay McMahon © 2005
All images are digitally watermarked – please don't infringe copyright!
Kay adds:
"Because we travel quite a lot we get to eat breakfast in a variety of places (well, Dave does anyway as I am barely aware that such a thing as morning exists) and we've been taking photos of various breakfast offerings around the world.
"The Wheelhouse Snack Bar in Minehead does a really good breakfast. Two rashers, two nice sausages, fried egg, half a grilled tomato, tasty mushrooms, hash brown, toast and butter and a cuppa. All for a very reasonable £3.95 (as of September 2005)."
Kay has been an expat for nearly 30 years. She set up the British Expat website back in early 2000, whilst living in London and missing the expat life. These days she spends much of her time lugging computers and cameras around the world. (Dave gets to deal with all the really heavy stuff.)