Slimmed-down government!
Pic of the Week – 6 February 2006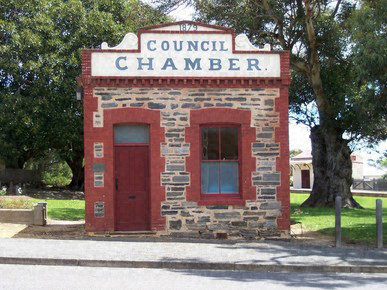 by Mojan © 2006
All images are digitally watermarked – please don't infringe copyright!
Mojan adds:
"How's this for a small council chamber?…just room enough for one councillor, a pot of tea and some buttered toast. This building is located just along the coast a few miles from where we live.
"I have to be perfectly honest and say that I don't know very much about this building that I stumbled across quite by accident one day, when I had got myself a tiny bit lost when out walking. (Oh yes! I can laugh about it now…but when you have been plodding along for the best part of 4 hours and no idea where you are…it's no laughing matter, I can tell you!)
"I came across this building and read the sign across the front that said 'COUNCIL CHAMBER' and wondered how the heck they would manage to hold any sort of a council meeting there (or whether they still do…maybe there is a bigger and better council chamber just around the corner)…I was a bit intent on trying to find my way home at that stage, but just couldn't pass up the opportunity of taking a photo."