Pic of the Week: 20 October 2011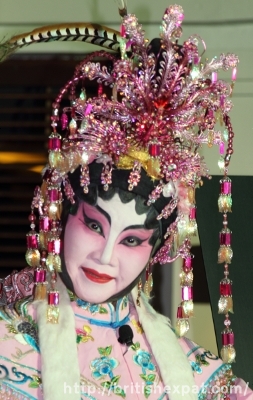 by Kay McMahon © 2011
Here's a photo I took of an elaborately adorned Cantonese opera singer from Singapore's Chinese Theatre Circle performing to entertain the guests at the luxurious The Pavilions resort in Phuket. Apparently it takes the opera performers two-and-a-half hours to put on their make-up and costumes. And all that for maybe a fifteen-minute performance.
We were visiting The Pavilions, Phuket to experience their Passions programme. I wrote a feature about it for ALuxuryTravelBlog.com, and you can read more on there about the wonderful time we had.
Actually, I'm lucky to be able to publish this photo at all as I was "enjoying" myself so much I managed to lose my camera. Most likely, I left it lying around somewhere, and then went back to our villa. Tsk. Luckily one of The Pavilions' excellent staff found it and kept it in a safe place until the following day when it was handed back to me intact. If I'd lost my camera anywhere else I would probably have freaked out, but The Pavilions is such a safe and relaxed environment I just knew that everything would be OK.
You can read more about our Cantonese opera experience here:
A night at the opera – water sleeves and pheasants' tails