Pic of the Week: 28 June 2015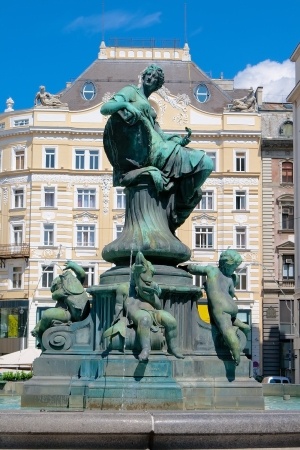 by Andrey Andronov © 2015
The "Providentia" fountain in Vienna's Neuer Markt, sculpted by Georg Raphael Donner (1693–1741) and popularly named after him (Donnerbrunnen) by the Viennese.
This is the centrepiece of the fountain, showing a representation of Providence surrounded by four putti (secular cherubs), each holding a different fish (pike, carp, Wels catfish and salmon) representing the Danube. Baroque sculpture relied heavily upon allegorical themes, and there are four more figures around the fountain basin, two male (for Upper Austrian rivers) and two female (for Lower Austrian rivers):
The Traun: a young man hunting for fish with a trident
The Enns: an old ferryman leaning on a rock (the Enns is an important Alpine route)
The Ybbs: a reclining girl with a water jug
The Morava: a woman reclining against a relief depicting a battle (the Morava marks the boundary between the Czech lands and Slovakia, and between Slovakia and Austria)
The scupltures were originally cast in lead, but were replaced in 1873 with more durable bronze copies—the originals are now in the Baroque section of the Österreichische Galerie Belvedere. Similarly, the basin was originally made of Kaiserstein (a high-quality limestone) but has been largely replaced with granite.