Pic of the Week: 30 August 2017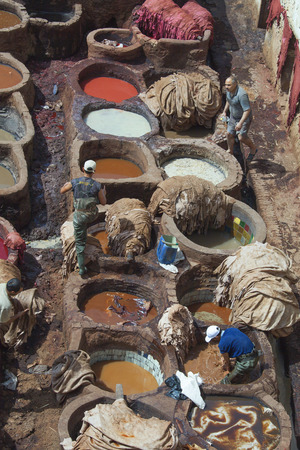 by Patricia Hofmeester © 2013
Local people dyeing leather the ancient way with natural products such as saffron, poppy, cedar and indigo in the Old City of Fez (Fez el Bali) in Morocco.
Of course, before the leather's dyed it has to be tanned. Tanning is a particularly unpleasant process which involves such noisome substances as cow urine, pigeon droppings and quicklime. These help strip the leather of all the unwanted bits (hair, flesh, fat) and to preserve it and soften it up ready for dyeing.
Fez el Bali is a World Heritage Site and lays claim to being the largest pedestrian zone in the world. Over 150,000 people live there.