Pic of the Week: 23 February 2019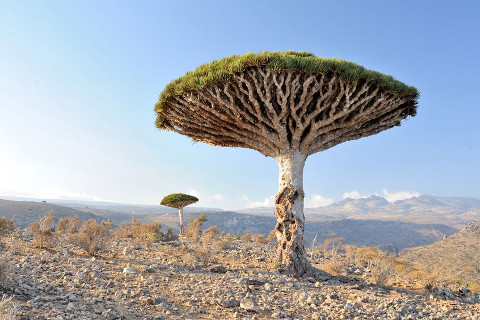 Dragon blood trees (Dracaena cinnabaris) on the island of Socotra.
There are about 120 different species of dragon tree, most of them occurring in Africa or southern Asia. The dragon blood tree is native to the Socotra archipelago in the Indian Ocean, approximately 240 km (150 miles) east of Somalia and 380 km (240 miles) south of the Arabian peninsula. Although geographically part of Africa, Socotra belongs to Yemen (whose mainland is in Asia) and thus makes it a transcontinental country.
Dragon trees (and, for the Romans, particularly D. cinnabaris) were once the primary source of "dragon's blood", a type of red resin used as incense, varnish (notably for violins), medicine and dye. These days it's more usually derived from the rattan palm.
The dragon blood tree is becoming increasingly endangered by the human population on the Socotran islands and by the gradual drying out of the archipelago over the last few hundred years.