We decided it was a pity to be so close to Angkor Wat – considered to be one of the wonders of the world – and not go to see it. So towards the end of April 2006 we set out for the town of Siem Reap in Cambodia, just a few kilometres away from the Angkor complex.
Getting there was an experience in itself. The first thing we had to contend with was a bus journey from Pattaya to Bangkok. Not so bad in itself, except this time a guy who'd clearly been taking something illegal had to be cajoled out of Kay's seat. After a good deal of muttering under his breath he decided to go and squat down at the front end of the aisle. In the end – after three warnings – the bus driver opened the door and threw him off!
After an overnight stop at the Domino bar in Soi 11, Sukhumvit Road – cheap, clean and our home-from-home in Bangkok – we set out for the airport. The airport's non-smoking, apart from a couple of nasty cubicles, but there's a café-bar on the top floor which has an outside section. They also do some quite nice beers from a micro-brewery somewhere in Bangkok!
[This, of course, was at the old airport at Don Muang. Sadly, there's nothing similar at Suvarnabhumi – it's all sparkly décor and sparkly lager, with not an ale in sight and certainly no outside facilities. Poor smokers…]
The flight with Bangkok Airways lasted 55 minutes; barely long enough for Kay to start suffering nicotine withdrawals. Even so, they provided us with a reasonable snack on the way, and a beer. Mind you, at the price we were paying (about £150 each for the return journey), so they ought!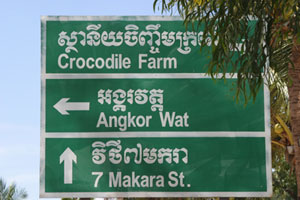 Arrival at Siem Reap was a fairly straightforward process. Luckily, we'd had the foresight to bring passport photos with us for the visa-on-arrival process. Unluckily, we hadn't had the foresight to bring dollars. As a result, instead of paying the prescribed fee of $20 we had to pay 1,000 baht – effectively a 25% surcharge. (We've since discovered that you can obtain your visa online, if you pay by credit card and can send them a passport-style JPEG image of yourself. It takes three days for them to process the application, though.)
We were met outside the airport by our driver, Mr Thy (pronounced "tea" – he laughingly told us that his friend and fellow-driver was nicknamed Mr Coffee). Unlike many airport taxi drivers elsewhere, his English was pretty good and his driving was sedate. We almost found ourselves putting our foot on the imaginary accelerator rather than the brake!
We'd booked ourselves in at Molly Malone's, Siem Reap's only Irish pub and guesthouse, and felt at home there almost immediately thanks to the warm welcome we got from Thierry, Emer and the regulars. While Kay got the drinks in, I went upstairs to sort the bags out and to sneak a look at the room. It was clean, comfortable and sunny, with a nice, firm and large double bed (a four-poster, in good solid wood; Thierry used to run a timber-yard) and had the usual hotel comforts – except that the bathroom had the biggest corner bath I'd ever seen! "I have to say, it's not a nice room," I told Kay, Emer and Thierry when I got back downstairs. Their faces fell. "It's a very nice room!" I continued. Big smiles all round!
An unexpected bonus was the free WiFi internet access at Molly's; a handy facility if you're on the move and want to keep up with your emails or the news. When Thierry heard that we had a laptop with us but no wireless modem, he immediately offered to help get us kitted out. Sure enough, the next morning he whisked me round to the local computer shop to see what they had in the way of PC cards. He even managed to get the driver installed for us, even though we didn't have a working CD-ROM drive!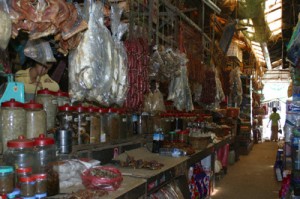 Siem Reap itself is a quiet little town of about 90,000. Because it's quiet, we didn't find a great deal to do. We did eventually get to go and look at the temples – of which more later – and did a little bit of sightseeing around the town itself (the Psar Chaa, or Old Market); but other than that, we were content to spend most of our time socialising, eating and drinking.
On which subject, the beer of choice at Molly's was Anchor – pronounced in Siem Reap with a "ch" like the one in "chocolate". We were puzzled at this until we realised that a beer called Angkor was also widely available there. Anchor's OK; nothing special, but no worse than many of the other south-east Asian brews, and about what you might expect for a dollar a throw. Tiger's also available but costs about half as much again in most places – which, thinking about it, is still less than a pound a time and on a par with what you'd pay in Thailand. I didn't reckon too much to Angkor, although the one I had (at a street café down the road, not at Molly's) came out of a can and might have been allowed to overheat at some stage.
Looking at the Lonely Planet guide, we'd had the impression that Bar Street (the hub of the town's nightlife) was quite long – in fact, it couldn't have been more than about a couple of hundred metres long from start to finish, and by no means all the businesses along it were bars and restaurants. However, we did manage to find somewhere to play pool; the Ivy bar and guesthouse, just round the corner from Molly's. Kay spoilt a couple of guys' evening by thrashing them both after one of them had given me a pasting. I blame the beer. . .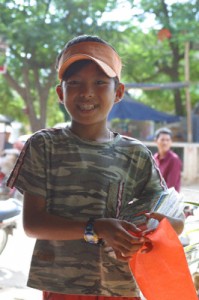 One inescapable fact about the country is the poverty. There are beggars all over downtown Siem Reap, many of them missing limbs as a result of the landmines strewn indiscriminately all over Cambodia. There are also plenty of street kids, either begging or selling guide-books and postcards. You'd have to have a heart of stone not to buy from at least one of them, although they'll generally leave you alone (eventually) if you tell them you've already got enough cards for all your friends.
After four days, it was time to go home. We felt we'd had a good time in Cambodia and were a bit sorry to leave – we even booked ourselves in for another four-night stay a few months down the track!
Update: December 2007
We had a great time at Molly's the first time round, and the second visit was good too. Sadly, our wonderful experience wasn't repeated on our third and fourth visits.
On our third visit, in October 2006, we were constantly disturbed early in the morning by building work (more rooms being added). Thierry promised us that as compensation we could have a free night the next time we stayed. Kay duly reminded him of this when we checked out on our fourth stay, in December 2007. He denied all knowledge and insisted that he would never have made such a promise. Our word against his, of course – but we won't be going back.
Book Siem Reap hotels NOW with Agoda!
If you like the sound of Siem Reap and would like to visit, why not book online through Agoda? You can save quite a hefty sum (and we get commission at no extra cost to you)!