Santini/San Francisco Steakhouse – Kuala Lumpur
Lot No. G45B/136, Ground Floor
Suria KLCC
50088 Kuala Lumpur
What do you do after you've had a bad experience when you've ordered a particular dish?
There are two basic approaches you can take. One of them is the "once bitten, twice shy" approach; you may have been put off the dish in question for weeks or months, or even for life if the experience was bad enough. Or you can take the view that the "falling off a horse" strategy is better – go out again the following day and try ordering the same thing somewhere else.
After our dismal experience at the Outback Steakhouse in Kuala Lumpur's Bukit Bintang district, we weren't too sure that we fancied a steak meal again. So when hunger pangs started to hit us the following day, steak wasn't the first thing on our minds.
As it happened, we were at the Kuala Lumpur Conference Centre (KLCC) for the Expat Expo at the time. We remembered that last year we'd drunk at a nice bar and restaurant just outside the main Suria shopping centre, but hadn't ordered any food. So we headed there again to see what they had to offer.
Santini – as the bar's called – offers a range of light meals, with the emphasis strongly (though by no means exclusively, as you'll see) on Italian pasta 'n' pizza. We ordered a couple of draught Tigers and decided we fancied sharing a pizza to go with it. Choosing one proved difficult, as I don't really like meat on pizzas all that much – especially if it's chicken ham or beef salami – and the only vegetarian option appeared to be the bog-standard Pizza Margherita. However, we decided to order a small Quattro Stagioni, without the chicken ham, and hoped that they'd be able to prepare that without problems.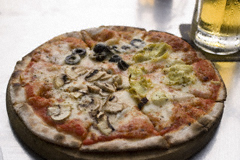 We weren't disappointed. Our pizza arrived with a generous topping of artichokes, black olives and mushrooms to make up for the thankfully absent chicken ham. The base was beautifully thin, with a crispy crust around the edge. It tasted delicious.
Emboldened by this, I was tempted to find out more about the menu. My eye had been caught by a wonderful-sounding steamed sea bass, so I asked the waitress about it. Would she recommend it? "The steaks are better," she answered. Steak? It wasn't even on the Santini menu. "You can get steaks from the San Francisco Steakhouse next door," she told us. (The Santini and the San Francisco Steakhouse are owned by the same company.)
Hmm… Last night's effort had been a complete fiasco, primarily because of the Outback's bumbling staff. But these people seemed clued-up. And the pizza had been really good. Was the steak worth a try?
Cut forward a couple of hours, and Dave and I were both getting really hungry – after all, we'd only ordered a small pizza as a stop-gap. (Larger ones were available, and we'd seen a few people tucking into them with evident enjoyment, but we were after a snack at the time.) So we returned to the San Francisco Steakhouse.
Neither of us were interested in starters as such, so we launched straight in with an order of a medium-rare fillet steak with black pepper sauce, with side orders of a salad and onion rings.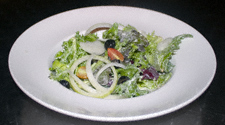 The salad and onion rings arrived first. The onion rings were OK, if a bit bland; at least they were hot and crispy, and they went nicely with the ranch sauce that accompanied them. The salad, on the other hand, was fresh, nicely dressed, and very enjoyable. But we reined ourselves in – partly to save space for the steak, partly to make clear to the waiting staff that we intended these as accompaniments, not appetisers.
We were just starting to wonder where the steak was, and whether we'd specified that we wanted the steak brought as soon as it was ready, when the waitress appeared at our table to ask that very question. Full marks to her for initiative. (No marks to Dave for not telling her in the first place. Grr!)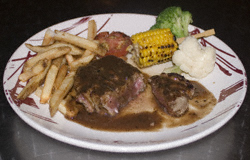 What a wonderful contrast with the horrible experience at the Outback. The steak was cooked to perfection, and melted away in the mouth as you chewed it. Most importantly, it was still hot! The sauce was rich and peppery without taking anything away from the delicious flavour of the steak. The corn-on-the-cob that came with it was tasty and just ever so slightly blackened on the outside. To be honest, we weren't that interested in the veg – but for what it's worth, the cauliflower was perfect: beautifully crisp and tasting just as fresh cauliflower should. The chips were – well, chips. But certainly nothing wrong with them.
Overall rating: 4½ out of 5
It's a pity that this place couldn't be transported to Bukit Bintang! As it is, it's a great place to eat and drink if you're up at the KLCC.