A blogging Brit abroad: 21st Century Mummy discusses Singaporean life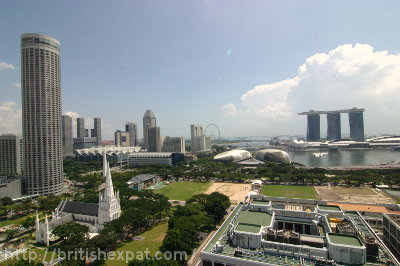 Having dreamt about leaving the UK for most of her life, Janine Clements moved with her young family to Singapore in 2011. Since then, she has been chronicling her time as an expat via her award-winning blog, 21st Century Mummy, which was recently named by HotelClub.com as one of the best family blogs in the country.
Ben Holbrook from HotelClub.com Singapore spoke to Janine to discuss her experiences of relocating and raising a family in a foreign country, and how she has found life in Singapore since the big move.
As someone who's travelled extensively, how difficult (or easy!) was it to make the permanent switch to another country?
I was so happy to leave the UK as I was bored of living there and was desperate for a change (and for some warm weather). Moving here was an easy decision and we haven't looked back.
On your blog, you mention that it had been your life-long dream to be an expat – was Singapore always your dream destination?
I'd always wanted to live a glamorous expat lifestyle and yes, Singapore was one of my dream destinations. Both my grandmothers and my mother lived here at various points in their lives and I have always felt drawn to it. In fact, 18 years earlier when I travelled through Singapore as a backpacker, I said I wanted to come back and live here one day. My husband had never even been here before we moved so he had to take a leap of faith that it would be okay!
What's the British expat community in Singapore like? Do you gravitate towards it, or do you prefer to go it alone and embrace the Singaporean way of life?
The Singapore expat community is amazing. We moved into a condo a few months after moving here and had an immediate network of friends right on the doorstep. I do have a few Singaporean friends but mix mostly with expats from all over the world, mainly because I don't work and the condo is full of expats. Also my children go to international schools.
What's your favourite thing(s) about living in Singapore? And your least?
There are so many things I love about Singapore: the old architecture (although there is less and less of that still around); the history; the amazing variety of food; and mix of cultures and Asian/Western influences. Like anywhere, living in Singapore does come with its own challenges, but it's easy to live here, and it's clean and much safer than many other countries. I also love living on a tropical island and being close to so many other incredible destinations. I can hop on a plane and be in Cambodia, Thailand, Hong Kong or Burma in a few hours.
My least favourite things would be the very high cost of living (it is now the most expensive city in the world, according to the Economist Intelligence Unit) and although I like that it's always warm, the year round humidity can be unbearable.
How has the move to Singapore changed you as a person?
I am much happier, as I was fed up with living in London for many reasons. I couldn't stand the weather in the UK, especially in the winter months.
You're a freelance writer by trade – have you found your new surroundings more inspiring than back home?
Yes, absolutely. Even just moving to Singapore has been an exciting and fresh experience. Living on this exotic and colourful island is much more inspirational than being in grey and gloomy London.
Do you ever miss life in London, or the UK in general? And have you been back much?
I rarely miss life in London or the UK, although I do miss family and friends. I sometimes long for cool air and sunny summer days (although there weren't that many of them), country pubs, grassy parks and cheaper wine. I also miss being able to get away for weekend breaks without having to leave the country.
Would you consider emigrating again? And if so, where would you most like to move to?
I'd absolutely move again, in fact I wish I'd started the whole expat adventure many years ago as I love change and discovering new places. Although I sometimes wonder if I am in search of a utopia that doesn't exist.
However, I'm aware that my children are growing older and I don't want to disrupt them too much. Singapore is a fairly transient place and most expats you speak to say they only plan to live here for 2–5 years. It is likely we'll be off at some point, especially if it continues to be as expensive as it is. My ideal destination, now we have kids, would be the USA or possibly Switzerland. If I didn't have kids it would be somewhere like Kenya or Tanzania.
What is the one piece of advice you would give to someone considering emigrating?
Don't think twice about it. If you don't do it you'll live to regret it.
Thanks to Janine for taking the time to speak with us. If you'd like to read more about her, be sure to check out her blog 21st Century Mummy, which is full of great insight for parents, expats and anyone interested in the Singaporean way of life!