Expat Interview – Nick Wetzel
This is the first in our series of interviews with expats around the world. We'll be talking to expats all over the world who are involved in doing something which our readers would be interested in hearing more about. It could be work, running a business, or involvement with a charity.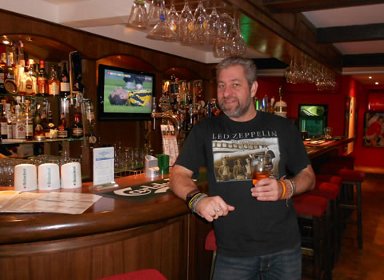 First up in the series is Nick Wetzel, who lives the dream of owning one of the most successful expat pubs in Thailand, the Picked Liver on Sukhumvit Soi 7/1 in Bangkok's popular Wattana district. But is moving to Thailand and buying a bar really all that simple? Read on and find out!
BE: What did you do before? Were you already in the hospitality industry or was this a completely new venture for you?
Nick: I left the UK and my home town of Sheffield at the tender age of 23, initially for Sri Lanka to work for three months as a trainee manager in a large garment manufacturing company. However it didn't take long for me to realise that the expat lifestyle and Asian culture were for me. I actually ended up staying there for eight wonderful years until unfortunately my contract ended. The dilemma then, was: what to do next?
What led you to become an expat in Thailand?
Initially I thought about returning to the UK, but after around a second decided against that idea! Instead I thought I'd come to Thailand, with the intention of possibly opening a bar. I had come to know and love Thailand on many holiday trips over the years from Sri Lanka and an extra incentive was that my sister was already living here and working as a teacher.
So the adventure began!
Do you have any advice for others who want to live the dream and buy a bar in Thailand?
One of the biggest lessons I have learned in my time in Asia is to be very careful who you trust when it comes to business and money. I have had painful experiences with fellow expats, Thais and Sri Lankans, you have to be absolutely sure you know what you are entering into. You have to realise that you're not in your homeland and things just don't work the same way. Some things are easier to achieve, but many things can be difficult, if not seemingly impossible. So you have to learn a new way of thinking and most of all to be patient!
I was fortunate in the fact that I took my time to get to know Bangkok and particularly the expat community over six years before I finally found the Pickled Liver. If I had just arrived here and had opened a bar straight away, I believe it probably would have failed. Establishing contacts is absolutely crucial.
Do you see yourself ever returning to live in the UK? If you did return, what are the main things you would miss from Thailand?
Leaving the UK was the best thing I have ever done, although you never know for sure you will be successful or even happy in another country. I would recommend anyone to take the plunge, rather than thinking of excuses why you can't give it a try.
Do you have time for any hobbies? How do you like to relax?
Unfortunately when you own and run a bar you find that most of your time is taken up! I used to enjoy scuba diving, but since taking over the Pickled Liver, that hobby has taken a back seat.
What was your most scary (or fun) experience of being in Thailand?
What I enjoy most about owning a bar in Bangkok is the wide variety of people you get to meet. I would say in my six years at the old bar and the new one [note: the Pickled Liver relocated in 2011] I have met just about every nationality there is. One of my fondest memories of my time here in Thailand and in particular in the Pickled Liver has to be Christmas Day 2010. What was going to be a small Christmas dinner for a few select family members and friends turned into a full turkey dinner for over 50 people. Although very stressful trying to get all the details right, the day went really well and everyone loved it. However, the best was yet to come, when my friend walked in after dinner fully attired as Santa Claus. I will never forget the looks on all the Thai children's faces, it was pure magic!
What's the most memorable meal you've eaten? Where and why?
My most memorable meal would have to be the one I had at the Tsu Nami Japanese Teppanyaki restaurant at the Marriott Hotel in Sukhumvit Soi 2, where you have your own chef who cooks the meal in front of you. It's not cheap, but we all like to treat ourselves sometimes.
Is there anything you'd like to add about the Pickled Liver and your plans for that?
The Pickled Liver is now located at the end of Sukhumvit Soi 7/1 opposite Maxims Hotel and I tried to keep the atmosphere of the old bar with an upgraded feeling. The great majority of the regulars have been very pleased with the outcome.
---
Many thanks to Nick for taking the time to share his experiences with us. It's been interesting to learn that there may be more to running a successful bar than first meets the eye. If you're thinking of trying it, I hope you find Nick's advice useful. And if you're not planning to start a bar but are simply looking for a great pub, then head on over to the Pickled Liver. You can read more about it on the Pickled Liver website, plus we have a feature about it here on British Expat.
Would you like to be interviewed on British Expat? You don't have to be rich or famous – just doing something interesting. Please do write in if you'd like to take part.