Cambodia Basics: 101 Tips – out now!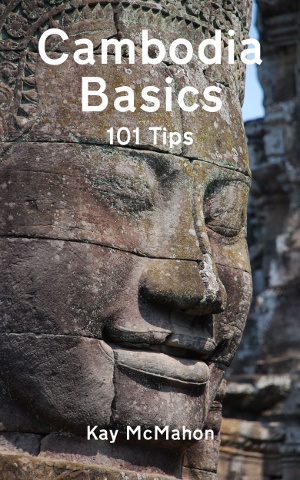 We're delighted to announce the launch of our new eBook for Kindle, Cambodia Basics – 101 Tips by Kay McMahon.
It's not a conventional guidebook. There are plenty of those in the market already. Rather, it's a collection of loads of useful tips and hints, based on the author's personal experience and on-the-ground research, built up over more than six years of frequent visits to the country.
The idea of the book is to give the visitor an idea of the possible snags they may encounter on their visit. Cambodia's a charming country with undoubted attractions – including the truly amazing Angkor Wat – but it's a challenge. Not only is it one of Asia's poorest countries, it's also had one of the most devastating recent histories in the region and is only now emerging from some very dark days indeed. And its tourist industry is still very much in its infancy.
Written in a reassuring and friendly style, Cambodia Basics – 101 Tips lets you know what you can expect from your visit and helps make sure it'll be one that you can look back on as a happy memory rather than a disaster.
Not got a Kindle?
Not got a Kindle?
Don't worry, you don't need one. There are several Kindle reader programs, plugins and apps available at Amazon that cover most computers and smartphones.
If you have the time, we'd appreciate it if you could rate or review the book on Amazon too – it's always good to have feedback. Thanks!