Out now: Now wash your hands! How YOU can avoid food poisoning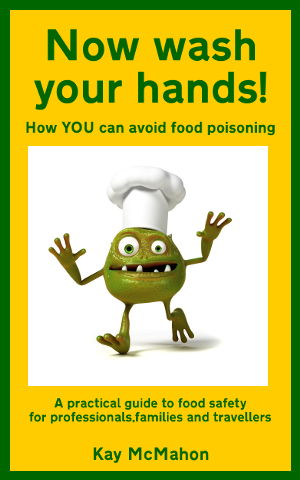 British Expat has published another new eBook on Kindle! This one is about food safety and hygiene. You just need to follow some simple steps to prevent you and your family from getting food poisoning. It's all explained in our new easy to understand book.
It'll be free from shortly after 0700 GMT on Sunday 8 September until roughly the same time on Tuesday 10 September. Grab your chance and get it while it's free!
As always, if you get one of our books please leave a review of it on Amazon as this helps us to do better in the Amazon search engine. Thanks!
Here's the blurb we wrote on Amazon about it:
There's no question that food poisoning is a deeply unpleasant and, at times, a dangerous and even life-threatening experience. And it's on the rise, too, with media reports of outbreaks of salmonella, listeria, E. coli and other nasties reported almost everywhere you turn.

Yet it needn't be like that. The principles behind safe food handling are straightforward – you don't have to have a degree in bacteriology to keep your food germ-free. And the food handling rules based on those principles are easy to follow – you don't need an industrial freezer or your own pasteurising plant.

Broadly covering the same ground as the Royal Society for the Promotion of Health's Food Hygiene Certificate – a required qualification for all commercial food handlers in the UK – Now wash your hands! How YOU can avoid food poisoning explains simply and clearly:

– the science of food poisoning: the main food poisoning bacteria, where they arise, how they thrive, how they poison food, and how to eliminate them
– hygiene in the kitchen: how to store and handle food safely, both raw and cooked
– personal hygiene: why hand washing is so important in preventing transmission of disease
– pest control: how to keep vermin out of your kitchen, and what to do in case they get in anyway
– kitchen layout and design: sensible workspace planning to avoid food contamination
– kitchen cleaning: how to stop your work surfaces, equipment and storage areas from becoming a haven for germs

Author Kay McMahon is a qualified chef and an expat with over two decades' experience of living, eating and cooking in some of the world's more challenging environments. She's worked in and managed domestic and commercial kitchens in Europe, the Middle East and South Asia, with no reported casualties so far.

So if you're worried that your next big trip overseas might result in several more little trips in rapid succession, or that your Christmas turkey might give your family members an unexpected and unwelcome intestinal gift, read this book and find out how YOU can avoid food poisoning.
Buy the book
You can buy Now wash your hands! through any local version of the Kindle Store. For your convenience, we've linked to the .com and .co.uk versions, but there are Kindle Stores for Germany, France, Italy, Spain, Japan, India, Canada, Brazil and Mexico too.
If you have the time, we'd appreciate it if you could rate or review the book on Amazon too – it's always good to have feedback. Thanks!
Not got a Kindle?
Don't worry, you don't need one. There are several Kindle reader programs, plugins and apps available at Amazon that cover most computers and smartphones.