A Tribute to Ginnie Bedggood (1943-2010)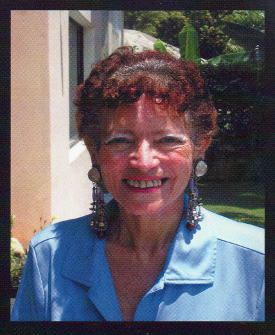 I was very sad today to receive an email from Grahame Bush, Ginnie's partner, telling me that Ginnie had suddenly and unexpectedly passed away on the evening of 3 July.  I wanted to write a tribute to this feisty lady who, among many other things, was a staunch supporter of BE.
Ginnie was eccentric, energetic, and enthusiastic about her life abroad in the Dominican Republic (DR). She first contacted me several years ago because she had written an article about how to survive and thrive in DR.
This was typical of Ginnie – always wanting to help people.  You can read more about her on her own website.
Ginnie went on to write a book: Quisqueya: Mad Dogs and English Couple about her and Grahame's life in DR.  I had an email from her just a couple of weeks ago telling me that she'd written another book which is due to be published in September this year.  She said she hoped we were still at the same address because that's where she'd told the publisher to send us a copy.  It's not arrived yet but I know I'll feel sad when it does.  I always like to receive books to review, but reading this new one will be clouded by knowing that Ginnie is no longer with us.
In typical Ginnie style she was always encouraging me, whether it was to write a book myself or concern for us when we were caught up in some political turbulence, and she was one of the very first people to write and say how much she liked our new-look website.  She spent much of her time showing great care and concern for the people she met, although she despised corruption and fought hard against it.  I'm sure she made a much better friend than an enemy.
Sadly, I never met Ginnie in the real world but through the Internet she became a good friend and I deeply regret her passing.  I wish now that I had spent more time getting to know her better, but I always seem to have thousands of emails to deal with and I never really took the time to correspond more regularly with her.  I guess I just thought she'd always be around.  A missed opportunity and my loss.
Ginnie knew that we had a forum for the DR and introduced us to Grahame, who quickly became the moderator of that forum and single-handedly fields all the questions we receive about DR.
She also introduced us to Razvan Petrescu, a Romanian and global nomad.  Razvan wrote loads of articles for us including a guide to his native land. We subsequently met Razvan in Bangkok and are still in touch but our paths rarely seem to cross and our plans to meet up again keep being thwarted for one reason or another.
Ginnie's memorial service (wake) will be held next week in DR.  We won't be able to attend but I will certainly be thinking of her and will raise a glass in her memory. In his email telling us of Ginnie's passing, Grahame referred to "The Old Girl" as being "bloody obstinate" – yes, she was my kind of person.  And Grahame will carry on where Ginnie left off with her many campaigns and projects.  It will be a tough act to follow.
I'll just end this tribute now by sending Grahame my condolences and best wishes for the future.  Somehow words such as "with deepest sympathy" and "sincere condolences" seem totally inadequate.  But I know Ginnie wouldn't want us all to mope around so instead let's end on a more upbeat note.  Ginnie was one of those people who make the world a better place and it was a privilege and a pleasure to have known her.