Following the passing of my partner, Chris Green, I promised to tell of my experiences of the process of recording the death and arranging a funeral here in the hope that it might offer some guidance to those who, unfortunately, may need it. It's not an easy thing to have to do and a difficult thing to write about, but here we go.
I should start by saying that we live on Gozo, so in some ways it was, perhaps, a little easier as all the offices were closer than they might be on Malta. Having said that, the whole process was a lot easier than I had imagined.
Just to put things in context: although Chris had been ill and in hospital for some months he was home and recovering well when he suffered a major heart attack. The ambulance was here in minutes and I cannot praise the crew highly enough, they tried so hard, but he was pronounced dead on arrival at the hospital. So it was sudden and unexpected.
I cannot stress too strongly the need to have a Maltese will to cover all assets, possessions etc. held here. It's easy to do and any notary will do it for you. Any assets in the UK should, of course, be covered by a UK will. Be warned, if you haven't been warned already: joint bank accounts here are not a good idea. They will freeze the account, something that didn't happen to me in the UK, they just changed the name. We had been warned of this by our bank so had separate accounts.
You may be aware that funerals take place here very quickly, but don't be rushed. Admittedly there is not a lot of time to play with, but think carefully – you won't want to make a decision you may later regret.
Firstly you need the 'Certificate of Death and Cause Thereof' signed by a doctor. Chris officially died at the hospital so his doctor there did it without any fuss (keep copies).
Find an undertaker. Our landlord was extremely helpful (I know this is not everyone's experience but we get on very well with ours and he had even been to visit Chris in hospital). Chris died on Tuesday afternoon and I rang our landlord Tuesday evening and he said, "What can I do?"
I said, "Can you find me an undertaker?"
"I will ring the man who did my mother's funeral."
The guy rang me that evening and wanted to come straight round. I asked him to wait until the morning: well, you can imagine the state I was in! He came next morning and wanted to know what we wanted. (Chris and I had discussed at great length what we wanted and had added our wishes as an attachment to our wills so that there could be no arguments later.)
Our wishes were very simple: to be interred here on Gozo, in a Government plot, no service, no flowers and no gathering. He said that to buy a plot was difficult, they were in short supply and were extremely expensive, but he could arrange a Government plot very easily, he could also arrange a priest (Catholic or Anglican) and flowers if required. He explained that a Government plot (which is free) is yours for at least two years, probably longer. If the plot is needed again then the bones are removed from the coffin, placed in a small box and returned to the same plot with the stone plaque still in place, all of which I was happy with. Looking at some of the plots surrounding Chris's they obviously haven't been touched for many years and they are now building an extension to the cemetery.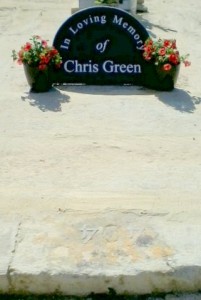 You can have a stone plaque made to go on the plot which is a relatively small stone by our standards and is free-standing. You can have either white marble or black granite and the wording is entirely up to you. The tradition here is to have a small photo included on the stone. I declined! I told him what I wanted and he said he would make the arrangements but the stone would take about four weeks. You place the stone on the plot yourself and you are not allowed to fix it in any way.
He asked if anyone would be coming from abroad in which case they would delay, pending their arrival. As there weren't in our case he could arrange the funeral for tomorrow (Thursday). Whoa! Hold on. I then thought about it and decided that there was no reason to delay and, in fact, I feel it is better to get things done sooner rather than later and we agreed on Friday morning. This may seem rather sudden to many but it's the way things are done here and at the very least you don't have the waiting around you can have in the UK with it hanging over your head.
He asked how many cars were needed or whether we would use our own. I gather the norm is to meet at the mortuary and follow the hearse to the cemetery. That I couldn't do and as we didn't need any cars I said that I would meet them at the cemetery.
He did his calculations and gave me a quote which was a lot lower than I was expecting. He took the clothes I wanted for Chris and we agreed to meet at his premises the following morning and he would take me where we needed to go and guide me through the necessary procedures.
I went next day and chose the coffin and we then set off into town. The offices being all in Victoria, we were able to walk round. First call is the police station. Here you will need the 'Certificate of Death' and the deceased's ID or residence card (keep a copy). They will enter all the details in their register, keep the ID card and issue you with the 'Burial Permit'. Then you go to the registration office in the Ministry who record all the details (you get no receipt) and tell you that the official 'Death Certificate' will be ready in about four to five weeks at the Public Records Office (which is where the Arms Office used to be before they moved round the corner). This is the only bit that takes time as without the official certificate you can't do anything else, neither can your notary. That was it for the day.
I was waiting for them at the cemetery Friday morning and after the hearse arrived I followed the undertaker, coffin and pallbearers to the plot. For those who don't know: the cemetery caretaker will have already lifted the concrete slabs off of the plot, the coffin is slid into what is effectively a concrete box and the slabs are then replaced and sealed with cement. It would be more correct, therefore, to call it an interment rather than a burial. All the plots are numbered. I gave the undertaker an envelope with the agreed sum, plus a little extra for his help, and they left me to my thoughts. I had taken just a few flowers which I put on the plot.
After the four weeks were up I went to the Public Records Office and collected the Official Death Certificate. I suggest you get at least four copies (you can go back for more if you need them) and take photocopies. The cost is €2.60 each. Your notary will need one, which he/she can certify themselves but, as I found, several other people you may be dealing with directly may want one.
Some other agencies you may have to notify:
POYC – I took a short letter and a copy of the official certificate to the POYC office at the hospital and she said that there was no need to inform anyone else in the health service as it would eventually filter through to all concerned.
Driving Licence – Having phoned them they said to return the licence with a short note to the office in the ministry.
Passport – This took several phone calls but I eventually spoke to someone who knew what he was talking about. Return it to the UK Passport Office with a simple form which you can download from their website that explains all:
What to do with a passport when the passport holder has died
Having got the Official Death Certificate my notary then prepared the submission to the court for them to issue a decree declaring me to be the Universal Heir, for which I had to go to the courthouse (at the Citadel) and swear on the Bible in front of the court clerk that the information contained therein was true. The notary then places notices in the papers that any claimant on the estate has 30 days to respond. Once that period is over the court then issues the Decree Final (delivered to me personally early one morning!). Things appear to be different here in that in the UK your solicitor collects all the assets and then passes them on to the beneficiaries, here I heard directly from the respective banks saying that the funds were available and what would I like to do with them. It was also a lot quicker here as things are still dragging on in the UK!
Although there is obviously a lot to do, and it may seem daunting at first particularly at what may well be the most difficult time in your life, I have to say that I found the whole thing relatively painless and everyone I dealt with was both sympathetic and helpful. I may appear to have gone on at great length but I have tried to cover as many points as possible (if you have any questions, then just ask). Of course, my experience may be very different from that of others but if, in some small way, this has been helpful to someone then I'm pleased.