Take Five – Andrew Birch, cartoonist
Welcome to the next in this series of short interviews. I ask each interviewee five questions: Who, What, Why, Where, Whatever… and each month I'll publish the most interesting ones. If you'd like to participate, please get in touch!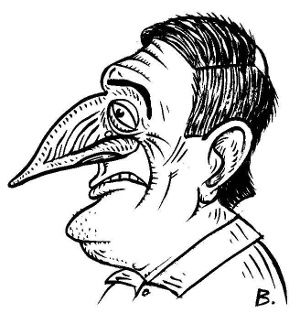 Andrew Birch decided to break free of the structure of the questions and take a more free-flowing approach to answering them. Read on!
I blame Gerald Durrell. How many others, reading My Family and Other Animals for O-level English, vowed to leave Britain and live an idyllic Mediterranean existence of sun, figs and geckos?
After university, I spent several years in the Derbyshire countryside trying to be a writer, then became a successful cartoonist. But the yen was still there, and I made a vow to live abroad by the time I was forty. So my Argentinian artist partner Miguel and I left the UK for Barcelona. It was difficult, as I was still working for British magazines, and this was just before the computer revolution made it possible to live and work anywhere. So I sent my cartoons by fax, post and sometimes even courier. I lost lots of work, and often wondered if I'd end up caricaturing tourists on the Ramblas. Then I bought my first computer—one of those design classic alien's head iMacs, of course—and never looked back.
After three years in Barcelona, we moved to Malaga. Twenty years ago it was still scruffy and down at heel, but we loved the atmosphere. Now it's changed out of all recognition, become a tourist magnet full of art galleries, smart restaurants and trendy bars, but it's still my city. We soon made friends, mainly artists, and after a drinking session with some journalists I found myself working for a local newspaper, doing a cartoon feature called Postcards from Malaga, in which a naïve Englishman writes to his Mother, misunderstanding everything about Andalucian culture. From then on, I was taken to the city's heart. Exhibitions, cartoon workshops and round tables followed, and invitations to judge competitions.
We're still here, living in a big dilapidated town house with a sunny terrace where I eat figs and watch geckos. I'm still cartooning, working for Private Eye, The Independent and others, and also writing again: a sitcom based on my strip in The Oldie is edging painfully slowly towards possible reality. We've got a production company, a broadcaster and a director, the next step is casting. Now if you'll excuse me, there's a glass of wine waiting on the terrace…
Andrew Birch. Malaga, 2 July 2015
You can read more about Andrew and see some of his superb work at his website: birchcartoons.co.uk