Open a bar in remote, rural Spain – are you crazy?
Is establishing a successful, thriving British bar/restaurant in a remote part of Spain a possibility?
"Buy two crumbling old farmhouses in a remote, rural part of Spain and open up as a British bar/restaurant? Are you mad?"
These were just the thoughts running through the minds of John and Trish when a friend (and property developer) asked them to take time away from their well established busy, thriving bar/restaurant in the bustling town of Torrevieja, Alicante and drive out into the countryside of Murcia to view these properties. However, John and Trish did just that and their hard work and determination has paid off and the rewards are now beginning to show.
John and Trish moved over to Spain in the years 1998 and 2000 respectively. Both disillusioned with life back in the UK, both decided to make the final break. Trish had previous worked as a home care worker and John had worked as a sub-contractor bricklayer and had had a scaffolding and plant hire firm. His work had taken him all over the world: to Pakistan, Australia and Canada, and he had spent thirteen years in Africa. Unknown to each other at the time of moving to Spain, both started to settle into their new life abroad. Trish had opened a bar in Benidorm and John had bought a bar in Torrevieja. Their paths crossed one night in a bar in Benidorm and they have been together ever since.
Up until last year, they had established two successful bar/restaurants in the popular town of Torrevieja, the Underground and the Flower of Scotland, and were quite settled into their life there: enjoying the lively atmosphere of the town and the hectic workload that their popular establishments brought with them. They also appeared on TV programmes on the popular Brit Channel, featuring in the Plain & Simple cookery programmes that went out on prime time TV. Life was good and John and Trish had no immediate plans for the future.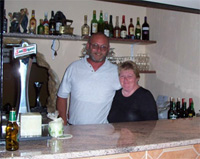 In March 2005, Geoff, a friend (and property developer), approached John and Trish and asked them to take time away from their well established busy, thriving bar/restaurant and drive out into the country to view some old farmhouses that were on the market for sale which he thought would make an ideal bar/restaurant. Reluctantly, John and Trish agreed (they really were against the idea as they had no plans to sell up their existing business that they had worked so hard to establish).
The old farmhouses (the two were joined together) were in a very poor state of repair. They were situated in a remote location – this was "real Spain" – bordering the nearby Sierra de la Pila nature reserve, surrounded by mountains, no immediate neighbours – just a few Spanish houses glimpsed in the distance. John and Trish, like most who visit here, fell in love with the area but still were not sure about taking on the challenge of setting up a new business here. How would a British business survive in this remote area? Where would the customers come from? How would the Spanish people react to a British bar/restaurant opening up here?
Geoff then dropped a bombshell (but quite a nice one!). He had just bought up 1.7 million m² of land and would shortly be starting on a new development of over 3,000 houses. With detached bungalows starting from only €109,000 (yes, approximately only £72,000!) these were surely going to be a popular buy – and the farmhouses would sit slap bang in the middle of this development! Well, this was an opportunity not to be missed and needless to say John and Trish decided to take the challenge.
After only one month of hard work reconfiguring the interior space, knocking down walls, laying new floors, putting in new kitchens, bathrooms, bars etc, etc, the Celtic Cross, La Montañuela de la Peña, Jumilla, opened its doors to the public on 15 April 2005.
The bar/restaurant now has a bar/lounge area, a separate dining room, an additional room (which usually turns into a dance floor on entertainment nights!), outside patio area (and accommodation is also available at the most competitive of prices!).
As with most businesses, it was a slow start, but from week to week the business is growing. The Celtic Cross offers a warm welcome to all its visitors and is fast becoming a popular drinking/eating place.
As to the reaction of the Spanish, John and Trish need not have worried. They have been "adopted" by the local Mayor and his family and are often invited to his home for fiestas, which include the killing of pigs and goats! John and Trish returned their generosity one evening and invited the Mayor and his family for supper – they turned up on the doorsteps with two goats as gifts!!! The neighbouring residents have also welcomed them into their community and are regular visitors to the bar. Some of the other gifts they have been given over the past months have been: Christmas cake, almond cake, wine (the more usual gifts) and goat bells, pumpkin, pure alcohol and lambs (the not so usual gifts!).
The menu of home-made food is very popular – and according to John, they have "the best red wine in Spain!" On special theme nights, such as "Curry Night" or "Celtic Feast", the restaurant is packed full (with Spanish and British alike). It is not unusual to have bookings of 60-70 guests, and tables often have to overflow into the bar/lounge area to accommodate the eager diners! The Spanish have really taken a taste to "Roast Sunday Lunches", they enjoy roast beef and Yorkshire puddings and these are often provided on Saturday nights to a packed Spanish audience. Other festivities celebrated are St Patrick's Day and Hogmanay, for example. On nights such as these, entertainment is provided and dancing goes on into the early hours of the morning. With such a lively atmosphere and enjoyment, it is hardly surprising that guests are reluctant to leave – some have finally made their departure at six in the morning!
The show houses on the new development are also now open for viewings and as expected, because of the quality of the product offered at such good prices, interest is high and sales have already been generated. John and Trish are also building up a good customer base of prospective buyers who visit the bar to sample their food and drink.
Plans for the future? Extensions are currently being made to the front terrace so that extra seating can be accommodated for the summer months. A bandstand is also going to be erected, with live music planned for summer entertainment. And – wait for it – paintballing in the nearby ravine! As John says, "This hell hole will not be for the squeamish!"
If you are in the La Zarza area, please pay a visit to the Celtic Cross – John and Trish will be delighted to see you. The bar/restaurant is through the village: at the signs for Vinaroca, take the road opposite. Follow the road down and as the road breaks into two, take the track to the left. Follow the track and you will come to the bar/restaurant. Enjoy your visit! John and Trish can be contacted by phone on 0034 606 775 811 or 0034 625 864 413.