Pic of the Week: 29 June 2020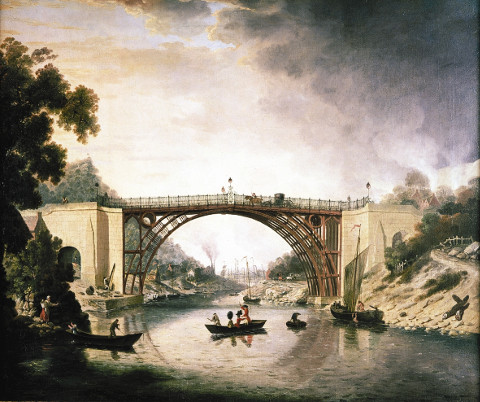 Cast Iron Bridge near Coalbrookdale
William Williams (active 1757-1797)
Oil on canvas
This painting shows the brand new Iron Bridge, the world's first, painted shortly before it entered public use on 1 January 1781. It was commissioned by the bridge's builder, Abraham Darby III, and shows the bridge he had largely funded in order to showcase the products of his ironworks.
As you can see, Williams has exercised a certain amount of artistic licence on his patron's behalf, and not only because the bridge is shown as being already in use. Coalbrookdale and the River Severn flowing through it were notoriously polluted as a result of the industry that had sprung up there during the eighteenth century, yet the sky over the river and to the south (left) is almost clear.
Williams himself was quite a character. He was born in Bristol in 1727 but his family originated in Caerphilly in Glamorgan. He emigrated to America in 1747, settling in Philadelphia, where he wrote The Journal of Llewellin Penrose, Seaman – considered by some to be the first American novel – and was instrumental in building the first theatre in what is now the United States. He also befriended Benjamin Franklin. After some further time in Jamaica and New York, he returned to Britain in 1776. He died in poverty in Bristol's Merchants' and Sailors' Almshouse in 1791.