A trip to North Devon and Somerset
We recently went to North Devon to meet a pal of ours there. On the journey home to our south London suburb we were in no great hurry and stopped at, or took a detour to, anything that took our fancy.
Lynton & Barnstaple Railway
Woody Bay (A39, between Blackmoor Gate and Lynton)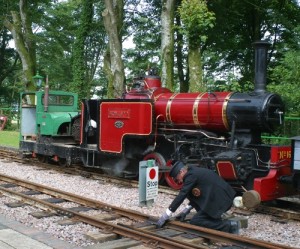 First we stopped off at Woody Bay where we had a ride on the steam train. The railway, like so many others, has been resurrected by enthusiasts and the money from the rides (as of August 2005 it was £2.50 for adults, £6 for a family ticket) goes to finance further restoration work. You can also pay £10 for a ride on the footplate. The station also has a shop for all kinds of railway memorabilia, books, postcards and souvenirs, and there's a display mounted in one of the railway's original brake vans explaining the history of the line. The volunteers are all very friendly and helpful. Good fun.
West Somerset Railway
Minehead to Bishops Lydeard
Carrying on eastward along the A39 with its twisting ups and downs, we eventually came to the village of Washford. Kay spotted the station, which is also a museum of the former Somerset & Dorset Railway. As luck would have it, a train was due just a few minutes later, so we waited for it. When it appeared, it turned out to be quite a bit bigger than the little train we'd seen at Woody Bay.
You can get a day rover ticket for £12.50 which gives you the run of the whole line for a day. Most trains are pulled by steam locomotives, but there are one or two "heritage" diesels during the busier months of the year.
Torre Cider Farm
Washford, Watchet, Somerset TA23 0LA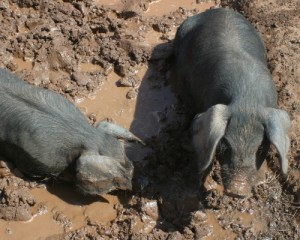 Just before spotting the WSR Station and Museum in Washford, Kay's eagle eye had seen a brown direction roadsign pointing to a cider farm only a mile away. So we made that our next destination. The farm's a cosy little place, with pigs the kids can feed and a pretty decent farm shop. We were a bit disappointed not to find any pork on sale, but consoled ourselves with a free sample of the farm's Tornado Extra Strong cider. They said it was dry, and they weren't lying… You can also see video demonstrations showing the cider making process, and there's a tea room offering cream teas.
However, we chose to press on homewards, to eastern Somerset and the best part of the whole day:
Wincanton
We're fans of Terry Pratchett's books so we decided to take a slight detour off the A303 and pay a flying visit to Wincanton. This town is twinned with the fictional city of Ankh-Morpork featured in the Discworld series. Having parked in a free municipal car park – yes, really, we're not still in the realms of fiction here – we wandered down Wincanton's High Street. The first thing of interest we found was a shop which sells wonderful cheeses: Fernstrom & Farrell (2 High Street, Wincanton BA9 9JP). Highly recommended! When we told the lady in the cheese shop that we'd come to Wincanton because of our interest in Terry Pratchett, she pointed us back up the hill in the direction of The Cunning Artificer.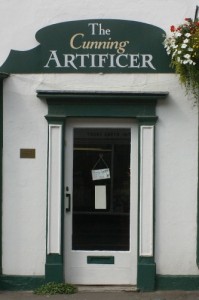 The Cunning Artificer (41 High Street, Wincanton BA9 9JU) is a Discworld emporium and more. Run by Discworld enthusiasts Isobel and Bernard Pearson (the shop got its name after Pterry dubbed Bernard the "Cunning Artificer"), it's like entering a portal into the fictional world originally created by Pterry. It's hard to find words to do this place justice. The warmth and enthusiasm of Isobel and Bernard is very palpable. We had a lovely time in there. This place is an absolute must do for any Pratchett fan, and the icing on the cake of an already grand day out. The shop doubles as the Ankh-Morpork Consulate, and you can apply for a passport there (although you can also do it by post – the form's available in a PDF download from the Cunning Artificer's website (http://www.artificer.co.uk/). It also doubles (should that be trebles, or quadruples?) as a post office for the Ankh-Morpork postal service. Again, highly recommended!