Expat Interview – Steve Bright (Part 4)
General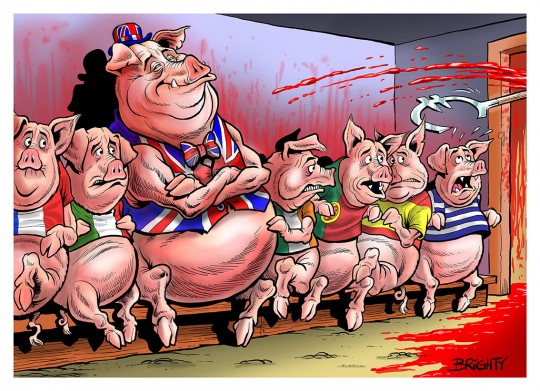 BE: Are you artistic in other ways? For example, do you play any musical instruments or write books? Photography?
Steve Bright: I am embarrassed to have to admit, in a profession that sees a very high percentage crossover with musical talent, that it has completely passed me by. I've been told, however, that I sing like an angel… or was it a dead person? Nope. I draw – that's about it. Mustn't be greedy. I played violin at primary school for a year, until my mother told me that either the violin went, or she did.
It's been said (probably by you) that many cartoonists, whilst funny on paper, are miserable gits in real life. Are you a miserable git? What makes you smile or laugh when you're not working?
There are cartoonists who certainly believe that being a miserable git is almost a prerequisite for the job, and that the more cynical and jaundiced your views on life, the better the ideas you'll come up with. I think there's an element of truth in that, although I have to say that my own experience of most cartoonists I've met in person (many!) contradicts those assertions. We enjoy getting together when we can, at cartoon festivals and organised events, and generally a very agreeable time is had by all. Although perhaps if you were to analyse it, much of the time might be spent being miserable gits in harmony with each other, I dunno. From my own perspective, I became a cartoonist aged 23, newly married, and with our first child on the way shortly afterwards. Life was as good as it ever had been, and I don't recall having any time for being miserable. That said, as I've stated already, mine was not the most conventional route into the business. Cartoonists do laugh though – and a lot. And at everything. All part of the job, innit…
Do you laugh at your own jokes?
Only the funny ones.
I get the impression that cartooning is your hobby as well as your job. What else do you enjoy doing in your spare time? Surprise us!
I am vice-president of the West Midlands Naturist Society. That's not actually true, but I bet it surprised you. Nah – rather boringly perhaps, you're right; cartooning is also my hobby, although until relatively recently I never used to draw for my own amusement. I still don't – everything I draw is hopefully for the amusement of others, but I do a lot more unpaid stuff than I used to, and I mostly draw what I want to draw in doing so. Which is nice.
Do you have a personal motto or mantra?
Nil carborundum illegitimi. It means, "Have a nice day!"
You published a book of cartoons last year, Just Us Then? Would you like to tell us about that and any other projects you have planned?
The book is a collaboration between me and professional magician John Holt. We met at a convention where we had both been booked to entertain the attendees, and got on well, discovering we lived not far apart. We kept in touch, and would meet up for the occasional coffee. I soon discovered his talent for entertaining people extended to writing jokes and stand-up comedy. And so we hit upon the idea of self-publishing a book together, just for fun, comprising of many of the unpublished gag cartoons I had been drawing, mixed up with John's one-liner jokes. We managed to get it stitched together and launched just before Christmas, and are both rather proud of it. It doesn't make us any money, because we set the price as low as possible so that hopefully it would be affordable to all, and all of the money goes to cover the publisher's costs and cut. But that's fine – it was all about the fun of putting it together, and hopefully putting a few smiles on people's faces.
That's what's always been important, and the true joy of what I do for a living. I've effectively been in the cartooning business since I was 18, but I've never been much of a businessman throughout that time. I'm now 56. My proudest achievements will never be measured in financial terms, but so long as I can adequately provide for my loved ones, that's of little or no concern. My aim is to simply keep working, and provide through what I do best. And against all the odds, I've managed it, somehow, so far.
No significant future projects on the go at the moment, but something will come along shortly – it always does.
Steve, many thanks for taking the time to entertain British Expat readers with your thoughts about life as a cartoonist. It's been a highly entertaining interview to write up and I'm sure our folks will have a good chuckle at some of your answers too. Best wishes with all your future projects!
You can see more of Brighty's cartoons at his brighty-art.co.uk website. And if, like Steve, you're a fan of Marvel or D.C. Comics, and you're not averse to a clever bit of mindless zombie violence and swearing, then you'll love Hairy Steve.
Buy the book!
Just Us Then?
Steve Bright & John Holt
Paperback, 90 pages
2014, Createspace
ISBN 978-1505512304
RRP: £7.99