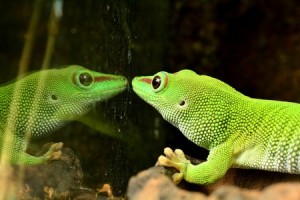 I guess the BE newsletter has three types of reader: expats of long standing; people who have recently arrived in their new country; and those thinking of leaving to set up a new home. How well prepared were you, or are you, before taking the giant step into the unknown and pastures new?
One of the joys of my work is interviewing expats and reading the transcripts of life story recordings made by expats. Before leaving the UK, most expats told me, they had carried out thorough research by studying newsletters and forums such as British Expat's, getting information from UK-based emigration offices, acquiring information from friends and relatives and a plethora of other sources. Was this enough?
I remember not being able to sleep well for days when I arrived in the West Indies. It was not the suffocating heat but the unexpected and scary sight of lizards chasing fireflies across the bedroom ceiling. I was also kept awake by thinking about the tarantula I saw scurrying over the garage floor before I came to bed and there was the incessant noise of frogs, cicadas and packs of barking stray dogs chasing bitches on heat. No guide book had prepared me for that.
Most people's research efforts concentrated on their work, or finding accommodation, or schooling for their children. These concerns involved the bureaucracy of work permits, complying with local professional qualifications, setting up bank accounts, dealing with local tax matters, sorting out social insurance and the like. All this was obvious stuff and, though often frustrating, problems tended to be relatively short-lived. It was the mundane and the unexpected that tended to flummox new arrivals. Most overcame the unexpected but for some it was too much and they returned to the UK. In listening to their reminiscences I heard many illuminating stories.
There were the apocryphal tales from Australia about the insect life and snakes appearing from the dunny. In Canada one woman found out the hard way that wearing a skirt was not the dress code for hiking in the black fly season. Another ignored advice to hang food from branches in trees when camping; she was woken up by a bear snuffling in the guy ropes. She lived to tell me this tale.
And while on the subject of eating: most expats expected to eat different food, but it was the language of the kitchen that often caught people out. Even within the UK one woman from London who moved to North Berwick took months to understand what her butcher meant by a gigot, and to get her head round the fact that in Scotland mince pies had meat in them. In North America the use of cups and spoons in baking perplexed those brought up using pounds and ounces or kilos and grams. Shortly after arriving in Montreal newly-wed Margaret Baldwin decided to make some bread. Back home in England she had always used wet yeast. She could not find this ingredient in Canada so used the same amount of the locally available dried yeast. The result was that the dough rose so much that it was sliced by the oven shelf above. Her husband Robert commented, "it was probably the tallest loaf ever made."
Margaret's experience created much mirth, but Doreen and Arthur Wood were more seriously affected when they learned from bitter experience that having a north-facing house with a downward-sloping driveway to the garage under the house was not a good idea in an icy Canadian winter. They had deliberately bought the house because it gave them the sunny southward-facing back garden so valued in England. They did not foresee the hellish struggle they would have to get the car up the frozen northern driveway.
Sensory responses to the natural world have a major influence on how expats adapt to their new surroundings. For example, British migrants to North America were not as disoriented as those who chose Australia or South Africa where, in the southern hemisphere, the seasons were reversed, the sky at night lacked the familiar stars, and even trees and flowers were strange and unknown. Nonetheless, English migrants settling in the northern hemisphere similarly had to adapt to new sensual signposts of the natural world:colours, smells and sounds. For instance, the extremes of the Canadian continental climate took many expats' breath away. They had known that Canada was cold but not that cold, and many had not realised how hot and humid central Canada could be in the summer. Their bodies felt assaulted and some suffered from frostbite in winter and heat prostration in summer.
No matter how much you prepare and research, there are always going to be things that surprise. Have you had any unanticipated experiences or tips that you are willing to share and help others?
Have you? If so, please post them below—we'd love to read them.