Pic of the Week: 27 August 2018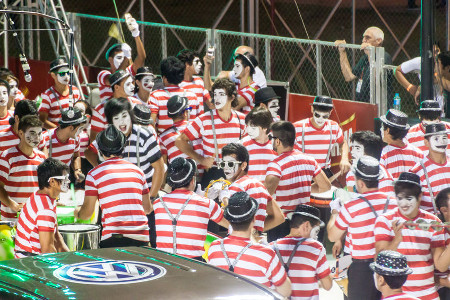 Revellers in striped jerseys at the Carnaval Encarnaceno in the city of Encarnación, Paraguay.
Encarnación is Paraguay's third largest city but claims to be its tourism capital, with riverfront beaches and boardwalks. On the other hand it's also the country's coldest city and was the first place where snowfall was recorded in Paraguay, in the winter of 1975. (The average low between 1961 and 1990 was a balmy 9.9°C (49.8°F) in June, the coolest month.)
Carnival time in February (usually) is a particularly festive occasion as it's in the height of summer. The city's usual population of 120,000 nearly doubles during that time, with clubs competing against each other in the keynote parade, where they're judged on originality, design, charisma, dance, rhythm, beauty and elegance. This club appears to answer all the Where's Wally? puzzles at once!