Pic of the Week: 30 March 2018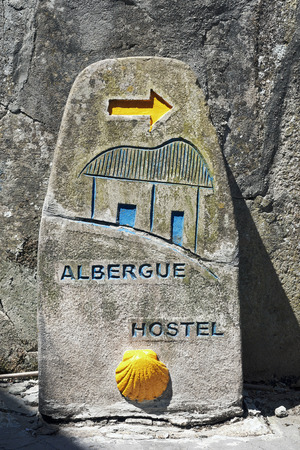 Wayside sign pointing to a hostel for pilgrims on the Camino de Santiago ("The Way of St James") pilgrimage route to Santiago de Compostela, shrine of the apostle James.
Myth has it that James preached in Galicia and that his body was miraculously transported there by a stone ship after his martyrdom by beheading. His emblem, adopted for signage on the pilgrimage, is the scallop shell. Scallops are named after St James in French (coquille St-Jacques), German (Jakobsmuschel) and Dutch (Jakobsschelp), but oddly not Galician (vieira) or Spanish (venera).
Camino de Santiago is a common name for several different pilgrimage routes that end in Santiago. The most popular – used by three out of five of all pilgrims in 2017 – is the "French Way", which starts in St-Jean-Pied-de-Port, eight kilometres (five miles) from the Spanish border and 769 km (478 miles) from Santiago. (The BBC have just broadcast a three-part series, Pilgrimage: The Road to Santiago, following seven celebs on the French Way. Not all of them are Christian – for example, Ed Byrne is a patron of Humanists UK.) Only pilgrims who do the last 100 km (62 miles) on foot or horseback, or the last 200 km (124 miles) by bike, can obtain the "Compostela" certifying that they've done the pilgrimage.