To date over a million Brits have chosen to dodge the drizzle and head Down Under for a brighter life in a cheerier climate.
Aside from the warmer weather and the lack of a language barrier, there are many reasons why people choose to emigrate from the UK to Australia. Just some of its siren calls include 21,000 miles of coastline and an economy that refuses to bow to recession, having only reported one negative quarter throughout the entire credit crunch.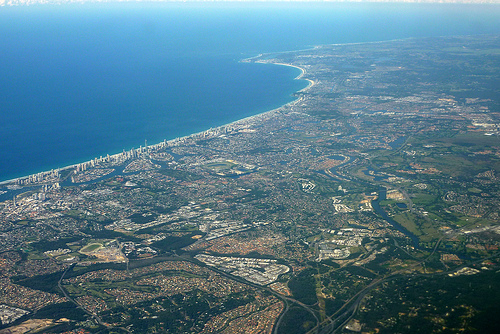 Gold Coast, Queensland
Photo: Simone Brunozzi (Licence)
Understandably, moving halfway across the world holds many more points for consideration than moving from Mansfield to Manchester. These points vary depending on what your plans are once you're in the country and how much of your old life you want to bring with you.
Working in Australia
If work is your reason for moving to Oz then you will need to make sure that you obtain the necessary work permit visa prior to your move. Australia operates a points-based entry system for allowing workers into the country, to ensure they receive skilled individuals who will enrich or benefit their economy. The point assessments vary depending on the type of visa that you require, but the minimum pass rate is 65 points for all tests.
When working in Australia you won't pay tax on the first A$18,200 that you earn, but from there the tax brackets go up quite rapidly. The first tax bracket is between the non-taxed earnings limit up to A$37,000 which gets taxed at 19%, and from there rates go as high as 45% for earnings over A$180,000.
Retiring to Australia
A visa is also needed if you are looking to spend some or all of your retirement in Australia. Retirement visas can be relatively tricky to get your hands on – you have to either already have held an Australian visa previously (or be the partner of someone who has), or bring with you enough cash to make a "significant financial investment" in Australia.
If you are emigrating as a British retiree you can still claim your pension in Australia. On the downside, though, it will stay fixed at what it was when you first left Britain, as there isn't currently a social security agreement between the UK and Australia.
All visas must be applied for and granted before you make the move.
Bringing bits of Britain with you
Once you have all the required paperwork, you need to bundle up all your necessary baggage – which there is bound to be a lot of, as you are moving to a completely new continent.
All household effects that you choose to ship to Australia will need to be accompanied by a customs form and will also be subject to inspection by the Australian Quarantine Inspection Service. Certain objects may require intense cleaning or fumigation before being allowed into the country, and they may also still have to be professionally cleaned upon arrival, even if this was done before they were shipped.
Permission must be granted before any motor vehicles are shipped to Australia. Failure to comply could leave you facing a fine of up to A$13,000 (and the re-export or destruction of the vehicle!). Once in the country, cars and other modes of transport may be subject to duty charges and modifications to comply with Australian safety standards.
Read Part Two – housing, getting settled in, the language, and home comforts